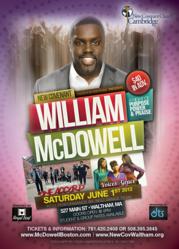 Boston, MA (PRWEB) June 01, 2013
Gospel Mega Star, William McDowell is set to make his debut on June 1st, 2013 for a Night of Purpose, Power and Praise at the New Covenant Church in Cambridge in Waltham, MA. This long anticipated event is sponsored by DTS Creative, a local digital marketing agency and Royal Soul Productions, a local faith based event marketing company in Boston.
"The intent of this unique cause-marketing program is to provide family service organizations a platform to raise money within consumers' normal buying habits. We felt that our intended strategy and programs will help address the fundraising challenges most community service organizations are trying to rectify," Event Organizer, Sponsor and owner of DTS Creative, Bildad St. Louis explains.
DTS plans on using the funds raised from the Concert to fund N.C.C.C Community Center programs and initiatives as well as their My World Faith™ Community Partners Program, which is set to officially launch June 2013.
Rev. Dr. St. Louis and wife Rev. Dr. Ester St. Louis are the Senior Pastors and Founder of New Covenant Church of Cambridge (N.C.C.C) in Waltham in Massachusetts which was established in 1984 and has been serving the Greater Boston Area for the past 29 years.
Dr. St. Louis says, "We are happy to host William McDowell as well as kick-off of our Annual revival and Harvest, celebrating 29 years in ministry by the grace and blessings of our Lord and Savior Jesus Christ."
At heart, Dr. St. Louis is a humanitarian who serve people of all races, creeds and backgrounds. He has served as an advocate and paralegal working with low-income persons, immigrants and other marginalized individuals and families in the greater Boston area. His primary focus was on those who required assistance with obtaining social or legal services. Dr. St. Louis is a certified mediator, licensed chaplain and member of the American Christian Counselors. He has also received distinctions for his humanitarian work such as the "Somerville Citizen Who Makes a Difference Award" and the "Peace and Justice Award" in the City of Cambridge. Dr. St. Louis and his wife are the proud parents of three children and the grandparents of five grandchildren.
"The Boston Faith Based Network has been awaiting William McDowell's debut in Boston as his work and ministry has immense impact on our community and has inspired many to give their lives to Christ. We are honored and excited to host such special event!" Boasts, Anderson St. Louis, son of Rev. Thomas St. Louis and Youth Pastor at N.C.C.C.
William McDowell has challenged the church to rise up and take its rightful place in the earth. With his recent release of Arise marked a milestone in his career, debuting at #1 on Billboard's Top Gospel Chart, for 6 weeks consecutively. Arise continued to grace the #1 position on Billboard's Praise and Worship Charts for 11 weeks. Also marking the sign of the times, Arise took iTunes digital distribution by storm, debuting as the #1 Christian and Gospel album. Arise is one of the top charting and selling albums to date. It is proving to be one of the most fluid and Spirit-led displays of congregational worship in recent memory. It also continues to reveal McDowell's heart for God's purpose initially displayed through the world-renowned worship anthem, I Give Myself Away. The song was ranked Billboard's #3 most popular Gospel Song of 2011. It catapulted As We Worship to the top of Gospel Music Charts for 132 weeks. Due to its wide-success, As We Worship became Billboard's #8 Best of 2011 Gospel Albums. I Give Myself Away not only topped charts, it also spawned a movement of service. McDowell recently launched http://www.IGiveMyselfAway.org as an information portal where many can go to find ways to volunteer, in addition to contributing financially and work towards becoming an answer amongst many question in the World. McDowell travels the globe, encouraging others to join this movement that is sweeping the nations.
This concert will serve as the first of many fundraising programs for the unique cause to action initiatives that New Covenant Church of Cambridge Community Center founded by Dr. St. Louis and his wife in March, 2012. In addition to expanding and growing their missionary and humanitarian work around the world, the St. Louis' goal is to expand its services to those in need of spiritual guidance, social advocacy and services. They have both vowed to always remain true with a primary focus on ministering, inspiring, and encouraging God's children.