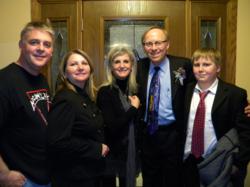 Rusty is working with Congress to get the Department of Defense and Veterans Affairs to cover hyperbaric oxygen therapy for veterans returning from battle with traumatic brain injury (TBI).
Harvey, LA (PRWEB) June 04, 2013
Rusty Ouart received his long awaited, well-deserved, Purple Heart on 12/21/12. A film of the ceremony is featured on YouTube Rusty Ouart: Recipient of the Purple Heart for Military Merit. Ouart suffered a concussive, traumatic, brain injury and shrapnel wounds from a mortar attack in 2008 while serving in Iraq. SPECT brain imagining done at West Jefferson Medical Center showed the damage done during the Iraq war.
Ouart tried to return to his military duties but eventually his medical difficulties became too severe to ignore. He was airlifted to Germany and from there spent time in several military hospitals. After eight months he was discharged and returned home where he continued to suffer from debilitating headaches, vertigo, short-term memory loss and constant fatigue.
Eventually Ouart began treatment with Dr. Paul Harch using Hyperbaric Oxygen Treatments (HBOT) in order to heal the brain by enhancing blood flow. Ouart has now undergone more than 100 treatments and is back in New Orleans now for additional treatments with Dr Harch. Dr Harch continues to treat veterans and has been doing so since 2008. He hopes to do another clinical trial later this year
In June of 2010 Ouart's case, with his SPECT brain images, were used as evidence to show the severity of CONCUSSIVE BLAST injury to himself and to our troops in Iraq and Afghanistan in front of the House VA Committee on Veteran's Affairs. Today Ouart advocates strongly, both nationally and locally on veteran's rights concerning legislation and has been featured both in print and on national television media.
Rusty Ouart, Purple Heart Recipient, will be the honored guest and speaker at a Father's Day event on June 16, 2013 at 1:00 pm. to be held at Faith Presbyterian Church, 2525 Apollo, Harvey, Louisiana. Call 491-4368 for further information
We are pleased to have this opportunity to honor Rusty and to hear his story
Rev. S. Frazier
Faith Presbyterian Church
2525 Apollo
Harvey, Louisiana