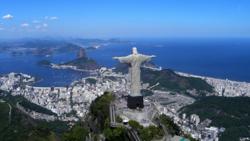 Passengers will sail from Buenos Aires to Rio de Janeiro aboard the Sea Explorer, stepping ashore to discover museums, gardens, architectural landmarks and natural wonders.
New York, NY (PRWEB) June 02, 2013
Travel enthusiasts now have the perfect opportunity to see why The New York Times named Rio de Janeiro the number-one place to visit this year. Academic Arrangements Abroad, the leader in upscale scholarly travel, recently announced a brand-new cruise for 2014. "Rio de la Plata & Southeastern Brazil" will sail March 11 to 23 to Rio de Janeiro from Buenos Aires, stopping at various points in Argentina, Uruguay and Brazil for privileged visits to museums and other cultural landmarks.
Scholars from leading cultural institutions and alumni associations, including the National Trust for Historic Preservation, will be on board during the 10-night cruise to offer engaging, informative talks on various points of interest. In particular, the presence of Patrick Bowe, who has lectured on many sold-out travel programs for the National Trust, will enhance the shore excursions to botanical gardens in Montevideo, Curitiba and Rio. Mr. Bowe is a Dublin-based architectural historian and horticulturist who has published nine books on the history of gardens in Portugal, the Caribbean, Mediterranean, and various other regions.
Other privileged outings include a backstage visit to Buenos Aires' Colón Theater, praised by Pavarotti for its flawless acoustics, and a curatorial tour of the São Paulo Museum of Art (MASP), which features a world-class Impressionist collection. Travelers will also attend an onboard tango demonstration in Buenos Aires and a traditional Brazilian music concert in Paraty, a colonial gem on the 300-mile Green Coast between São Paulo and Rio.
Of particular interest are the shore excursions in Uruguay, a lesser-known country that is one of Latin America's best-kept secrets. Travelers will visit Montevideo's impressive colonial buildings and see the modern art collection at Punta del Este's Casapueblo, a fantastic, Gaudí-esque villa atop a cliff overlooking the water. A visit to a dairy farm to sample dulce de leche, a popular caramelized milk dessert, will add just the right note of sweetness.
And no South American cruise would be complete without seeing the continent's breathtaking natural wonders. Passengers will also have the opportunity to relax on the beaches of Punta del Este—nicknamed "the St. Tropez of South America"—and Paraty. In Rio, they will visit the city's 200-year-old Botanic Garden and ride the cable car to the top of Sugar Loaf Mountain to watch the sun set.
Founded in 1977, Academic Arrangements Abroad provides an insider's look at extraordinary destinations in more than 50 countries through its networks of museum curators, professors and diplomats. Its "Sicily by Sea" cruise was recently selected by National Geographic Traveler as one of the magazine's "50 Tours of a Lifetime" for 2013. For more information, call (800) 221-1944 or visit http://www.arrangementsabroad.com.