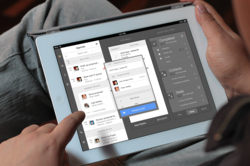 Manually dialing phone numbers, working off a call sheet and scribbling notes on an ad hoc basis while juggling a phone are now all relics of the past.
San Francisco, CA (PRWEB) June 03, 2013
AppMesh, a leading next generation business platform for mobile devices, today unveiled a new feature that changes the face of Customer Relationship Management (CRM). With AppMesh "CallCapture," iPads are transformed into personal call centers, enabling mobile salespeople to work smarter and more efficiently than ever before from any location. The new "CallCapture" capability, a first of its kind, makes staying in touch with contacts effortless by instantly linking users' iPads and iPhones with Bluetooth for seamless interoperability. AppMesh users scrolling through their contact database on their iPad tap once, and their iPhone will place the call; any call on their iPhone is also tracked by their iPad, cross-referenced to the contact database and automatically opens the call record page for simultaneous note-taking. Manually dialing phone numbers, working off a call sheet and scribbling notes on an ad hoc basis while juggling a phone are now all relics of the past.
"Until now, salespeople have had to juggle an unwieldy combination of printouts, notepads, laptops and desk phones to address the shortcomings of mobile offerings. AppMesh is transforming the way salespeople work by not only offering the most intuitive, accessible and efficient way to organize their customer engagement information, but with CallCapture, we are bridging the functionality of iPads and iPhones to leverage the unique capabilities of each and make the act of placing and tracking calls and related information, nearly effortless," said Leo Tenenblat, CEO and co-founder of AppMesh, Inc. "This delivers the mobile CRM workforce a new level of functionality that empowers salespeople and embraces the mobile era with powerful tools that make today's 'homebase' concept obsolete."
The new "CallCapture" feature now found in AppMesh does not require Wi-Fi or a cellular data plan and enhances the application's mobile-first design that uniquely addresses the needs of salespeople in the mobile era. After its initial launch in early April of 2013, the application is already being used by thousands of salespeople across the world who are taking advantage of its unmatched speed and responsiveness, post-cloud model for real-time information access regardless of connectivity, and contextual awareness through integration with phone, email and calendar apps.
The latest version of AppMesh, now including "CallCapture," is available today and still free of charge for individuals and teams of up to five from iTunes: http://appme.sh/download
Watch a brief video highlighting AppMesh's capabilities here: http://www.youtube.com/watch?v=etM1Stxmz0o
Tweet This: @AppMesh now turns your iPad into a personal call center by letting your tablet "talk" to your phone: http://www.appme.sh/download #appmesh
About AppMesh
AppMesh brings sales into the mobile era with a full suite of responsive, personalized and intuitive sales tracking capabilities. Founded by salesforce.com veterans, AppMesh empowers mobile professionals with the features they need in order to focus on what matters: building strong relationships and great businesses from anywhere, at any time.