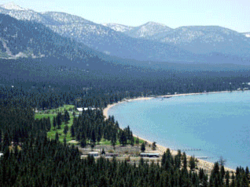 Tahoe packed the month of June full with must-see entertainment!
Lake Tahoe, California (PRWEB) June 01, 2013
There's no such thing as June Gloom in Tahoe with the warmer temperatures, sunny skies, and plenty of things to do to keep Tahoe visitors and locals entertained all month long.
As Tahoe prepares for the summer rush with countless events, VirtualTahoe.com has sifted through the entertainment and ranked some of the most exciting events to check out this June 2013. From dancing the night away at a concert or music festival, frolicking with jesters at the Renaissance Faire, and cheering on the paddlers at El Dorado Beach, Tahoe packed the month of June full with must-see entertainment!
Concerts
Tahoe is the place to be for summer concerts as a medley of musicians plan to take the stage at various hot spots around the lake this June.
Rock 'n' Roll Hall of Famer Eric Burdon and the Animals will jam out at Harrah's Lake Tahoe in the South Shore Room on June 8, while the popular Steve Miller Band will blow the audience away at the outdoor arena at Harveys on June 22. Check out the wailing blues legends Charlie Musselwhite and Coco Montoya in the South Shore Room at Harrah's Lake Tahoe on June 15, and rock out to the beats at the Lake Tahoe Reggae Festival on June 29 at the MontBleu Outdoor Event Center.
Valhalla Renaissance Faire
Take a magical trip back in time and join the likes of jesters, jousters, wizards, pirates and more at the Valhalla Renaissance Faire on June 1, 2, 7, 8, and 9. The Camp Richardson Resort transforms into the Renaissance era with Shakespearian plays, archery tournaments, and jousting battles. The whole family will love the reenactments, shows, scavenger hunts, and costume costumes at this historic event as it provides the perfect opportunity to teach the kids about this significant period in time.
Race the Lake of the Sky
Watch the clear lake fill with colorful paddleboards June 29-30 at El Dorado Beach. Paddleboard enthusiasts from around the country will gather to celebrate the 2013 Race the Lake of the Sky event featuring paddle boarding short courses, long distance races, relays, and more. World renowned paddlers will also attend and offer instructional clinics for eager guests.
Spectators are welcome to gather and watch the Tahoe event, browse the vendors, and listen to the music for free, while interested paddlers can register online or onsite to join in on the balancing act on the water!
About VirtualTahoe.com:
VirtualTahoe.com, Lake Tahoe's number one online guide, provides quality information on all things Tahoe. Use VirtualTahoe.com to find information on everything Lake Tahoe from vacation lodging and casinos to ski resorts and boat rentals. Chloe Mulliner, editor of VirtualTahoe.com, helps Tahoe travelers find the best hotels, restaurants, things to do, and more.