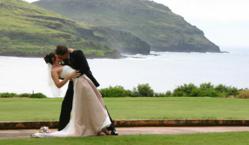 Newport Beach, CA (PRWEB) June 03, 2013
No matter how prepared a couple feels for their wedding day, unexpected events can turn a perfectly planned day upside down. From makeup snafus to tripping down the aisle, no amount of wedding planning can foresee or prevent all incidences. (http://www.insideedition.com/headlines/6400-wedding-party-falls-into-lake-during-photo-session 05/28/2013).
This was the case for Gainesville, Ga. newlyweds during their wedding day photo shoot. The 29-person wedding party made its way towards the dock along the lake to prepare for the waterside photo session when the dock collapsed, sending the entire group plunging into the lake. From the bride's soaking dress to a groomsman's encounter with a rusty piece of the dock leading him to stitches and a tetanus shot, the wedding party was able to laugh at the unplanned event. The bride and groom even posed for photos in life jackets.
"There is so much stress associated with wedding planning and pulling off the perfect wedding day that sometimes the bride and groom forget to keep their senses of humor," said Brett Reynolds, CEO of Wedding.com. "Your wedding day can be a once in a lifetime experience so it's important to keep a smile on your face no matter what little mishaps take place."
Despite ending up all wet, the drenched couple also ended up with a wedding day that will never be forgotten. Not only was the moment caught on video, they have a unique wedding story to pass onto their kids one day.
"Even the most unfortunate wedding day events can have a happy ending for couples if they remember their wedding day isn't about perfection, it's about celebrating the love they have for one another," Reynolds said. "It's OK for the bride and groom to strive for a mistake-free day, as long as they don't get upset if something doesn't go according to plan."
Although wedding day mishaps can disrupt a couple's original vision of a flawless ceremony and reception, they can still have the wedding of their dreams as long as they are able to laugh it off, and remember, it's rare for any wedding to go off without a hitch.
About Wedding.com
Wedding.com is an innovative new website that connects engaged couples planning their wedding with wedding vendors looking to grow their business. Wedding.com contacts vendors for couples, giving them the power to compare and negotiate while ultimately saving time and money. With 15,000 couples and 25,000 vendors currently using the website, 150,000 proposals have already been sent since their inception. Vendors range in services from wedding planners, photographers, florists, and DJs to custom invitations, party favors, and much more. For additional information about the company and its services, please visit Wedding.com.