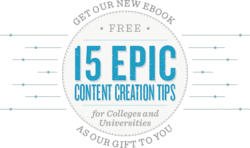 "One of the fundamental struggles in every campaign is content creation," stated Hutto. "Blogging is a profoundly relevant way to attract highly targeted traffic to your website."
Memphis, TN (PRWEB) June 03, 2013
The Valeo Design and Marketing team is pleased to announce the release of their new eBook for higher education institutions, 15 Epic Content Creation Tips for Colleges and Universities. Valeo's goal is to help bloggers for higher education institutions produce more unique content for increased enrollment.
Studies show 91% of college-aged individuals in the United States are daily internet users. As a direct result, prospective students are using college websites as a primary resource for determining which school to attend. To achieve success online, colleges must remain competitive. This means incorporating a cohesive content creation plan into your school's other marketing activities.
Valeo's eBook contains numerous content creation ideas, with a heavy focus on blogging techniques specifically tailored to college and university life. The eBook also provides an outlined approach to the content creation process, touching on blogging, social media, and the importance of offering premium content to your audience.
Valeo's Managing Project Director, James Hutto, believes offering these content creation tips eBook and video blog could help increase enrollment within higher education institutions.
"One of the fundamental struggles in every campaign is content creation," stated Hutto. "Blogging is a profoundly relevant way to attract highly-targeted traffic to your website."
Valeo utilizes SEO (Search Engine Optimization) tactics to assist colleges in improving their website rankings. By offering content creation and internet marketing services, Valeo is also helping schools generate a positive online presence.
About Valeo Design and Marketing
Since 2005, Valeo Design & Marketing has helped clients stand out among millions on the web. With their main office based in Memphis, TN and a second office recently opened in Austin, TX, Valeo offers innovative web design and effective online marketing solutions for numerous industries, Nonprofit and Higher Education included. For every project they work on, the Valeo team gets to know your industry, your competition and your business goals to put together an Internet marketing campaign that gets results. For more information, visit http://www.valeomarketing.com