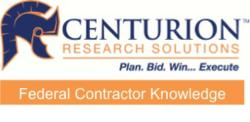 Centurion is committed to helping our almost 1000 clients respond to an increasingly lowest price technically acceptable federal contract bidding environment.
- Gary Loyd, CEO
Chantilly, Virginia (PRWEB) June 04, 2013
Gary Loyd, CEO of Centurion Research Solutions, announced the release of a new Federal Contractor Knowledge white paper, "Competitive Pricing Analysis and Best Practices". This follows on the heels of a very successful competitive pricing webinar (may be viewed on Youtube).
This report focuses on the five competitive pricing analysis activities that should occur before a final government request for proposal (RFP) is released.
1. Customer's available funding for the opportunity
2. Customer's should-cost analysis for the opportunity
3. Customer's award history and tendencies
4. Contractor's estimation of the project scope and cost
5. Contractor's overall and opportunity-specific price competitiveness
The objective of these analyses is simple: to improve a federal contractor's probability of win.
About Centurion Research Solutions
Centurion Research Solutions, founded in 2003, is a business intelligence and analytics company with a simple mission: offer products and services that help federal contractors efficiently win more government business. To achieve this mission, Centurion provides online, subscription-based products, custom research and analysis, and in-depth training. Industry leaders such as Alion, Boeing, Northrop Grumman, SAIC, Lockheed Martin, BAE Systems, InDyne, CACI and Raytheon rely on these products and expertise to help them identify, analyze and win more government contracts.