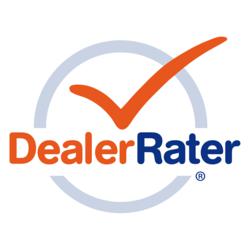 WALTHAM, Mass. (PRWEB) June 03, 2013
DealerRater, the world's premier car dealer review web site, today announced a joint presentation with Polk at the fourth annual Thought Leadership Summit - Automotive Social Media Summit titled, "The Proof is in the Numbers – Reviews Drive Business." The joint session will cover the results of a recent DealerRater-Polk Study concerning the correlation between online star ratings and increased dealer new vehicle sales. The study can be viewed in full at: http://ow.ly/knp1B. Through dealer case studies, the session will also explore online reputation strategies that enhance auto consumers' interest in doing business with a dealership and its employees.
Heather MacKinnon, DealerRater VP of National Accounts and Mark Pauzé, Polk Sr. Product Marketing Manager – Analytics and Consulting, will jointly present the session. The presentation will be Wednesday, June 19, at 1:00 pm.
The session will include the following:

Reviews drive business - Presenters will unveil quantifiable data that shows the correlation between star ratings and vehicle sales performance.
Building today's evidence manual - Dealers will learn to utilize dealer review content to overcome negative perceptions and book more appointments.
Let customers do the talking - Dealers will gain reputation leveraging strategies that will increase sales and service business.
DealerRater receives a new review every 55 seconds during daylight hours. With its unparalleled volume of dealer reviews now surpassing 1,000,000, 26 percent of all franchised dealers in the U.S. have embraced DealerRater and its award-winning Certified Dealer Program as a critical component of their online reputation management efforts.
Recent data research by Open Access Marketing further found that DealerRater has triple the overall dealership review count of Google+ and 43% more dealership reviews than Google+, Yelp, Yahoo! Local, Cars.com and Edmunds combined. It also found that DealerRater star ratings appear on the first page of Google search engine results for 87% of franchised dealership names.
For more information, visit http://www.DealerRater.com, call 800-266-9455, or attend the joint DealerRater-Polk presentation at the fourth annual Thought Leadership Summit - Automotive Social Media Summit, June 19, 2013, in Marina Del Rey, California.
About DealerRater:
DealerRater was founded in 2002 as the first car dealer review website worldwide. DealerRater is the world's #1 online resource for anyone seeking trusted third-party information on automobile dealerships. DealerRater features nearly 41,000 U.S. and Canadian car dealers, more than 1,000,000 consumer reviews and over 1 million cars for sale. DealerRater attracts more than 9.5 million consumers every year who visit the site to search for car dealerships, read reviews, write their own descriptive reviews, and find car deals – all for free.
In addition, DealerRater offers qualified car dealers a Certified Dealer Program as a reputation management tool to help them grow their online presence and achieve higher SEO rankings across the web. Today, nearly 4,700 dealers are members of the award-winning DealerRater® Certified Dealer Program. DealerRater is proud to have earned the #137 position on the 2012 Inc. 500 list, an exclusive ranking of the fastest-growing private companies in the United States. DealerRater was also recently awarded a Technology Leadership Award from Dealer Marketing Magazine and a "Top Rated" Reputation Management award in the fourth annual DrivingSales Dealer Satisfaction Awards.