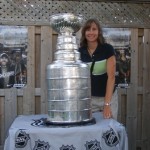 My methods have been proven to help people win the Stanley Cup
(PRWEB) June 18, 2013
The Hockey Workout Club is accepting new members. All one needs to do is play hockey (professionally or as an amateur) and commit to working out from home. The Hockey Workout Club sells memberships for $9.95 per month. Membership can be cancelled at any time and the product comes with a guarantee. http://hockeyworkoutclub.com/.
"The Hockey Workout Club is for hockey players who are serious about improving. Fancy gym memberships are just that, gym memberships. But, do they really improve one's game? My name is my brand. My methods have been proven to help people win the Stanley Cup," said Maria Mountain, Founder. "There is no reason in the world a hockey player couldn't benefit from a membership to The Hockey Workout Club- that is unless he or she isn't serious about growing as an athlete."
The Hockey Workout Club's materials are all downloadable. There is no wait time for shipping. The membership includes; access to the membership area, the off-ice training program workouts, monthly workouts, and much more. "I've includes access to my Complete on-ice speed and stamina workouts including a video and training manual to show how the exercises and what drills fit together. There is much more, of course," finished Mountain.
Members of the media are invited to request a complimentary membership upon qualifying credentials. Maria Mountain is also the producer of the Ultimate Goalie Training System 2.0. A system, that sells online for three installments of $67.00 and is endorsed by former NHL Coach Steve McKickan. Gratis copies of both products are available to the media upon qualified request.