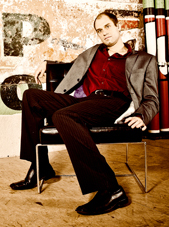 Denver, CO (PRWEB) June 04, 2013
Market Creation Group (MCG), a full service business-to-business (B2B) marketing firm on a mission to 'Make B2B Sexy,' is pleased to announce the promotion of Mark Stiltner to the role of Creative Director. The move signals a refined emphasis on delivering results-focused creative output that continues to meet and exceed client expectations.
"This is a natural evolution for Mark," says MCG Founder and CEO Brett Schklar. "He has continually demonstrated an ability to understand our clients' needs and translate that understanding into a solid creative experience. That is already a challenging task for any creative leader, but with our sole focus on B2B, it can be even more challenging."
Stiltner began his career with MCG in 2009 as a copywriter and quickly climbed the ranks with creative work that pushed the boundaries and expectations of not only MCG and its clients, but the B2B industry in general.
"This is the job I always felt I was best qualified to do," says Stiltner. "Even as a junior copywriter, I enjoyed mentoring interns and advertising students. I get the most satisfaction out of inspiring the entire creative team to do great work and setting a vision for the work's impact on its intended audience. With this role, I feel like my job and my professional passions are finally in alignment."
Under Stiltner's leadership, MCG will more tightly unify its creative vision, strategy and execution, as well as heighten the team's commitment to maintaining MCG's award-winning legacy as a leading provider of B2B marketing solutions.
"MCG's clients, and the B2B industry as a whole, look to their marketing leadership to design and deliver unique strategies that yield measurable results," adds Stiltner. "Our clients will truly benefit from a more sophisticated alignment of our entire creative process and ability to infuse a cross-pollination of ideas and best practices into the creative staff's output."
Schklar is looking forward to the positive changes Stiltner will bring to the agency in his new role.
"Mark brings a fresh perspective to all of MCG's work and has played an invaluable role in numerous award-winning projects over the past several years. Mark has many great plans for our creative program and I'm excited to work with him to accelerate the growth in our creative capabilities."
About Market Creation Group
On a quest to make B2B sexy, Market Creation Group boldly serves its beloved software, telecom, manufacturing and services clients with strategic marketing, demand generation and creative services. Recognized as the fastest growing private company by the Denver Business Journal, its services include interactive demand generation, digital marketing, inbound marketing, design and strategy with a focus on demonstrating solid ROI through comprehensive marketing programs. For more information, visit our website at http://www.demandmcg.com.