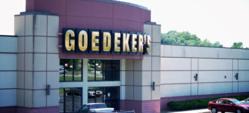 Ballwin, MO (PRWEB) June 06, 2013
After 50 years of successful local business, family-owned retailer Goedeker's joined the online market in 2008. Since then, the majority of their business has become web-based, making the St. Louis-based retailer a national name for brands such as GE Appliances. To keep with growing internet sales, Goedeker's doubled their web management team in recent weeks. The team is adding thousands of new products to the site and working to improve web marketing. Owner Steve Goedeker hopes the staff increase will help his company continue providing efficient and easy transactions with friendly and helpful customer service to satisfied customers nation-wide.
About Goedeker's:
For more than 60 years, Goedeker's has been a trusted name in home appliances, furniture, and electronics. From the first repair shop opened by Ben Goedeker at his home in 1951 to the 50,000 square foot showroom and warehouse currently operating under the leadership of his son, Steve, Goedeker's has provided generations of Saint Louis residents with unbeatable prices on name brand kitchen appliances, laundry machines, home furniture, and mattresses.