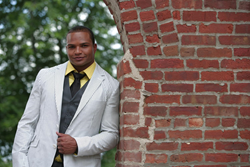 "I truly respect the work that Lambda Legal is doing for the LGBT community and I am so honored to be a part of this year's West Coast Liberty Awards," says Ayanbadejo.
Los Angeles, CA (PRWEB) June 04, 2013
Lambda Legal will honor longtime LGBT advocate and former Baltimore Raven, Brendon Ayanbadejo at this year's West Coast Liberty Awards. Ayanbadejo will join fellow honorees Justin Bartha of The New Normal, The Magic Johnson Foundation, community leader Eric Webber and host Lance Bass, as Lambda Legal celebrates 40 years of making the case for equality at the London Hotel in West Hollywood on Thursday, June 13, 2013.
Lambda Legal will honor Ayanbadejo for his courageous support for LGBT equality. As an NFL player, he brings a fresh voice to the movement. Much like Lambda Legal first did 40 years ago, Ayanbadejo took his passion to the courts, co-filing an Amicus Brief in the Hollingsworth v. Perry case, currently before the United States Supreme Court. Ayanbadejo has since said that he has received widespread support in the world of football.
"I truly respect the work that Lambda Legal is doing for the LGBT community and I am so honored to be a part of this year's West Coast Liberty Awards," says Ayanbadejo. "As the son of interracial parents, their marriage was illegal until 1967 and I have no intention of remaining silent on an issue of such importance like marriage equality. I am just very happy that organizations like Lambda Legal exist to help make equality a realization for so many people and the support I have received has been very touching and much appreciated."
Lambda Legal is on the frontlines fighting for equality, recently filing friend-of-the-court briefs in support of the challenges to California's Prop 8 and the Defense of Marriage Act (DOMA), which were heard in the United States Supreme Court earlier this year. Lambda Legal's amicus briefs join dozens of other briefs filed – including the Obama Administration's Department of Justice, the State of California and more than 250 businesses from across the country. Lambda Legal is the nation's oldest and largest legal organization whose mission is to achieve the full recognition of the civil rights of lesbians, gay men, bisexuals and transgender people and people living with HIV.
"It is really amazing to be able to honor someone who has actually been down in the 'trenches' alongside Lambda Legal and who has been so active in the fight for equality," says Rick Davis, Lambda Legal Western Regional Director.
The West Coast Liberty Awards is an annual opportunity for Lambda Legal to recognize and thank individuals and organizations whose public advocacy and work has furthered the cause of Lambda Legal's vision of equality. The 40th Anniversary celebration will feature cocktails, fellowship and a gourmet dinner featuring the sophisticated cuisine of Gordon Ramsey's London West Hollywood Hotel hosted by Lance Bass.
Lambda Legal will honor Justin Bartha, star of The New Normal, for embracing his role and taking a stand in the fight for equality, The Magic Johnson Foundation for its 22-year effort to combat the epidemic of HIV/AIDS through public education and advocacy and community leader Eric Webber for his tireless advocacy for LGBT individuals in the legal profession.
The 2013 Honorary Committee includes Lily Tomlin, Dot-Marie Jones, Alison Pill, Joshua Malina, Bellamy Young, Michael Steger, Madison Hildebrand, Jai Rodriguez, Sara Rue, Grant Bowler, Rex Lee, RJ Mitte, Garcelle Beauvais, Janina Gavankar, Eva Marcille Pigford, Tony Denison and others.
"We're honored to support Lambda Legal as it celebrates 40 years of fighting for equality. Lambda Legal has been instrumental in changing laws, including winning some of the most significant legal victories for the LGBT community," stated Andrei Iancu, managing partner of Irell & Manella.
Tickets available at: http://www.lambdalegal.org/wcla13
Media Contact: Nadine Jolson 310 614 3214, Email: jolsoncreative(at)mac(dot)com
Premier sponsors of the West Coast Liberty Awards:
About Irell & Manella LLP
Irell & Manella LLP is a full-service law firm with offices in Los Angeles and Newport Beach, California. Founded in 1941, Irell is nationally recognized for its intellectual property, litigation, corporate and tax practices. Irell's clients include Fortune 500 corporations, universities and leading-edge entrepreneurial companies.
About Toyota:
Toyota established operations in the United States in 1957 and currently operates 10 manufacturing plants. Toyota directly employs over 31,000 in the United States and its investment here is currently valued at more than$19.5 billion,including sales and manufacturing operations, research and development, financial services and design.
Toyota is committed to being a good corporate citizen in the communities where it does business and believes in supporting programs with long-term sustainable results. Toyota supports numerous organizations across the country, focusing on education, the environment and safety. To date, Toyota has contributed nearly 700 million to philanthropic programs in the United States. For more information on Toyota's commitment to improving communities nationwide, visit Toyota.com/philanthropy