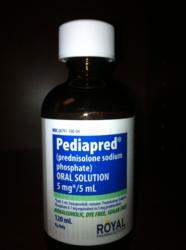 Manasquan, NJ (PRWEB) June 03, 2013
Healthcare Providers can prescribe PEDIAPRED® by specifying, "Dispense As Written," "Do Not Substitute," or "Brand Necessary" on the prescription.
PEDIAPRED® is a brand name of the generic medicine prednisolone sodium phosphate, which is a adrenocortical steroid drug with predominantly glucocorticoid properties.
Royal Pharmaceuticals has entered into an exclusive agreement with Granard Pharmaceuticals Sales and Marketing to sell and market Pediapred at the national points of distributions, i.e. wholesalers, chains, mail order, GPO's, LTC.
Royal Pharmaceuticals is a specialty pharmaceutical company that markets quality products to healthcare providers and patients. With over 60 years of leadership experience in the pharmaceutical industry, Royal Pharmaceuticals is dedicated to meeting the needs of the healthcare community. Our focus is on improving patient outcomes by responsibly commercializing differentiated branded products.