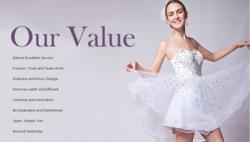 (PRWEB) June 01, 2013
Dresses1000.com, one of the world's largest wedding dress stores, has recently released its new collection of lace wedding dresses. Today, Sherri Wang, CEO of the company, announces Dresses1000.com's lace wedding dress promotion, and all its lace wedding dresses are now provided with discounts, up to 68% off.
The new lace wedding dresses are available in different patterns and styles. The design group from Dresses1000.com has incorporated the newest trends in these outfits, so that brides can find their favored lace wedding dresses effortlessly to display their finest shapes.
"We are very excited to introduce our new dresses to our consumers. Dresses1000.com is committed to helping you find the perfect dress for any occasion. New styles, quality fabrics, and the use of new technology have made our gowns so special in the current market," says, Sherri Wang. "At Dresses1000.com, you'll find a huge choice of wedding dresses and special-occasion dresses at low rates."
In addition, the company would launch new designs to enrich their product line every week. In the future, Dresses1000.com will definitely expand upon the product lines. Moreover, homecoming dresses under $100 are also offered by Dresses1000.com.
About Dresses1000.com
Dresses1000.com is a professional manufacturer and retailer of all kinds of women's dresses (wedding dresses, little black dresses, and more). Its mission is to 'make ladies more attractive' by offering stylish and high-quality women's dresses to each woman. The company is trying to offer their customers more choices with affordable prices.
For more information or advice, please visit http://www.dresses1000.com/