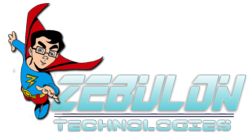 'At Zebulon Tech, we believe in giving back, and this award is just one way that we do that" Josh Caldwell of Zebulon Technologies.
Pittsburgh, PA (PRWEB) June 04, 2013
Zebulon Technologies, the Pittsburgh based internet marketing firm, has announced that Zoe's New Beginnings is the recipient of the 2013 Community Service Award.
Zoe's New Beginnings is registered with the IRS as a 503c and a 509a charity. The Pittsburgh, Pennsylvania-based charity was born from the personal experiences of Becky Dittman and her husband Chris. In 2007 their daughter Zoe was born six weeks early and just over four pounds. Zoe was just one of the 17,664 infants born prematurely in Pennsylvania that year.
The Dittmans' were completely unprepared for the early birth of their daughter or the challenges that come with a premature baby. Fast forward to 2009, and a charitable enterprise was born. Becky Dittman describes her experiences, "I knew we were unprepared with the items we had at home, but thanks to friends and family who shopped for us, we were soon outfitted with preemie clothes and diapers as well as other items needed to care for our baby.
I felt lucky and sad. I wanted to help other parents but I simply did not know how. After a challenging first year with our daughter working to keep her healthy and developing through therapy, I knew it was time to do something. We started Zoe's New Beginnings in our daughter's honor to do just that. We are a Pittsburgh-area based non-profit organization dedicated to supporting parents during their first few days at home with their premature baby."
Starting with no experience in running a startup or a charity, the learning curve was pretty steep. Soon the good intentions turned to good deeds. The good deeds began to spread, and people began to take notice. Others chimed in to help and the "good idea" became a fully functional charitable organization that was helping real women and real families with real newborns.
Josh Caldwell of Zebulon Technologies and his wife Stephanie were among the many that Zoe's New Beginnings has helped. According to Mr. Caldwell, "Our son Chance came early and we were caught totally unprepared. We had no warning and no idea what to do with a premature baby. We are eternally grateful to the people at Zoe's New Beginnings". When it came time to pick a winner for the community service award, it was an easy choice.
With expansion of the mission came a broader umbrella of service. At the moment, Zoe's New Beginnings is linked to several area hospitals including McGee Woman's Hospital, Children's Hospital of Pittsburgh, West Penn Hospital, Tri-Cities Health Care of Lower Burrell, PA, Pinnacle Health Care of Harrisburg, PA and the Ronald McDonald House Charities of Pittsburgh.
Readers who wish to help are encouraged to contact the group via the web site below. The group funds itself with a series of charitable fund raiser throughout the year, and through the generous contributions of normal everyday people. Tax deductible contributions can be sent to Zoe's New Beginnings at Po Box 9705, Pittsburgh Pa 15229 or by using PayPal at the web site http://www.zoesnewbeginnings.org/index.html