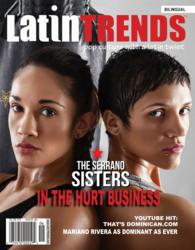 The Serranos—The World's Only Sisters in the Hurt Business of Professional Boxing.
New York, NY (PRWEB) June 07, 2013
The Serrano Sisters grace the cover of LatinTRENDS June Issue. The magazine talked to the ladies behind the scenes of the June cover shoot, where they learned that these Puerto Rican sisters in "The Hurt Business" that some call "The Sweet Science" are deceptively beautiful... so watch out, or you may just get knocked out!
This month's issue also features Bridal TRENDS, highlighting the latest in affordable wedding accessories; tips and tricks for makeup and hair; and advice for the well-dressed groom and his men. In addition, the magazine takes an in-depth view at New York Yankee and baseball legend Mariano Rivera and determine that although he is in his forties, he is as dominant as ever.
LatinTRENDS also delivers interviews with TED Talk Fellow and Mexican architect, Antonio Torres, NASA planetary geologist, Adriana Ocampo and a fast-rising star in politics and media, Alicia Menendez.
June issue advertisers are: Time Warner Cable, McDonald's, CUNY, Telemundo NY, Hostos Continuing Education, KTU 103.5, Consultorios Médicos De Los Doctores Pimentel, Fidelis Care, Cibao Meats, Bronxnet, Dominican Film Festival and Amor 93.1.
For more information, please contact Maria Luna at (212) 852-6164 or via email at mluna(at)latintrends(dot)com.