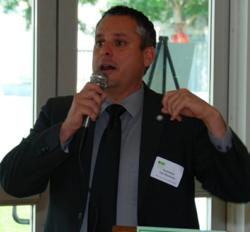 PACE improvements can transform existing energy expenses into thousands of dollars of positive cash flow each year for Commerce businesses.
City of Commerce, CA (PRWEB) June 05, 2013
Dozens of business and property owners, contractors and public officials joined Commerce City Councilman Ivan Altamirano, the Commerce Industrial Council, California PACE provider FIGTREE and the community health advocates at East Yard Communities for Environmental Justice (EYCEJ) for a Business Benefits Workshop introducing the region's first Guide to Green at the Rosewood Park Community Center at Commerce City Hall on May 30.
The Guide to Green is a free, online publication featuring at-a-glance summaries of 33 pro-business, pro-environment programs available at the federal, state and local levels. Produced via a partnership between East Yard and the Liberty Hill Foundation, the Guide to Green is designed to help Commerce businesses swiftly access a menu of sustainable, money-saving financial and technical assistance programs-- and grant opportunities -- to drive Commerce job creation while creating a more sustainable community.
"Commerce is home to over 1,800 businesses, many of whom could benefit from the complement of public and private-sector assistance programs featured in the Guide to Green," noted Commerce Industrial Council Chamber of Commerce Executive Director Eddie Tafoya. "We're here to facilitate access to these programs so businesses can determine what new resources are available to positively impact their bottom line," Tafoya said.
Green businesses serving the manufacturing, technology, retail and food processing sectors participated in the workshop, as did representatives of the U.S. Small Business Administration, Liberty Hill Foundation, the Air Quality Management District, Montebello Unified School District, Southern California Edison, SoCal Gas and the State of California's Department of Toxic Substances Control.
One event highlight was the presentation by FIGTREE's Vice President of Municipal Finance, Joe Flores, who spoke and entertained questions on Commerce's newly-launched commercial PACE program.
"What's compelling about PACE is that it allows property owners to qualify for money-saving renewable energy, energy efficiency and water conservation improvements with no money down, no FICO score checks – and without inhibiting their ability to borrow for other business needs," said Flores.
"PACE improvements can transform existing energy expenses into thousands of dollars of positive cash flow each year for Commerce businesses. It's a job-creating program that puts the money saving benefits of energy and water improvements within reach of most any property owner," said Flores.
FIGTREE uses private-sector capital to supply property owners with 100% up-front funding for material and labor costs of permanently-installed improvements that reduce a building's use of grid-supplied energy or water.
Property owners qualify for PACE financing based strictly on property values. FIGTREE's unique brand of PACE financing is available for commercial, industrial and multi-family properties of five or more units. Most properties qualify for financing that amounts to 10% of an assessed property's value; sometimes more. FIGTREE finances projects from as little $5,000 into the millions of dollars.
With commercial buildings in the City of Commerce numbering in the thousands -- and total square footage in the tens of millions -- retrofitting Commerce's building stock has the potential of creating many quality jobs. And investments to consume less energy and water reduce harmful greenhouse gasses and the region's dependence on fossil fuels, leading to cleaner, healthier neighborhoods.
"We are constantly identifying new ways to help members of the Commerce business community thrive," said Commerce City Councilman Ivan Altamirano, who joined the Commerce Mayor and City Council in a unanimous vote to be the first in Los Angeles County to bring FIGTREE to the region.
"Retrofitting Commerce's building stock with programs like PACE -- and the other options identified in the Guide to Green -- has the potential of increasing cash-flow for property owners and the contractors they employ, providing rich tax incentives to businesses and enhancing the environmental quality of our community," continued Altamirano. "We're hoping to inspire cities across Los Angeles to join us in seeing that pro-business programs and sound environmental policies are no longer mutually exclusive. They offer solutions in which we all win."
ABOUT THE CITY OF COMMERCE: The City of Commerce is the home of the Citadel Retail Outlets, the Commerce Casino and more than 1,800 other businesses. Located just five minutes South of Downtown Los Angeles, Commerce provides competitive advantages that include free labor recruitment services, low business license fees, no payroll tax, a free transportation system and outstanding freeway access. Commerce is the clear choice for business. To learn more, call (323) 887-4447.
ABOUT EAST YARD COMMUNITIES FOR ENVIRONMENTAL JUSTICE (EYCEJ): East Yard Communities for Environmental Justice (EYCEJ) is an environmental health and justice non-profit organization working towards a safe and healthy environment for communities that are disproportionately suffering the negative impacts of industrial pollution. Learn more at http://www.eycej.org.
ABOUT FIGTREE PACE: FIGTREE is a full-service, San Diego-based clean energy finance company providing breakthrough, 100% up-front off balance sheet PACE (Property Assessed Clean Energy) financing to help commercial and residential property owners improve their properties and realize the money-saving benefits of energy efficiency, renewable energy and water conservation upgrades with no money down. FIGTREE helps cities and counties create jobs, spur economic development and meet their AB 32 goals utilizing no public monies. FIGTREE is the first company in California to successfully raise private capital for commercial PACE projects via a multi-jurisdictional bond issue. Learn more by calling 1-877-577-7373 or visit us at http://www.figtreecompany.com.
# # #