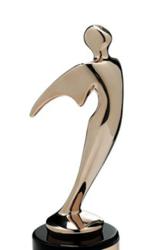 Anchor's dedication to expanding the world of marketing can easily be seen in their new site design as well as in their acceptance of their second Telly Award.
St. Louis, Missouri (PRWEB) June 02, 2013
Anchor Communications and Digital Services, a St. Louis Based one-stop marketing agency located in historic downtown Saint Charles, MO has recently been awarded a Telly Award for their recent video production work.
This Telly Award was accepted by the team at Anchor for their work for Glendale Chrysler Jeep Dodge Ram in their campaign of "Multiple Personalities." The award was presented for Excellence in Local Television Spot Special Effects Use.
In the "Multiple Personalities" commercial, the team at Anchor utilized green screen and high-level video editing techniques to portray Carlo Merlo, the car dealer president, as being in conflict with many different clones of himself (each with a different personality). This campaign has proven to be a huge success for the dealership, both within their fan base and in their ever growing customer base. Car sales have increased and continue to grow since the launch of this campaign in mid-2012.
Anchor CEO TJ Kirgin has over 20 years of experience in the marketing field. Mr. Kirgin had this to say regarding the acceptance of the Telly Award: "I'm so happy this work was selected to receive a Telly Award. It was a joy to produce and I'm glad that it could provide such valuable outreach for the Glendale dealership."
The Telly Awards, founded in 1978, is dedicated to honoring excellence in local, regional, and cable television commercials. The most recent Telly awards received over 12,000 entries from all 50 states and 5 continents. Being the premier award today that honors film and video productions, the Telly Awards are dedicated to strengthening the visual arts community with promotion, inspiration, and the support of creativity.
With over 20 years in the field, Kirgin and his team are constantly working to bring new skills and marketing ideas to the table. In this same light, Anchor is very proud to announce the launch of their newly redesigned website. Kirgin states that:"our new site really demonstrates advanced web technology and better marketing ideology in action, as well as our dedication to both."
This website was coded using both parallax web design, as well as a custom WordPress Content Management System. The site features a brand new information architecture, as well as better call-to-action mapping, and much more valuable content for users.
With the newly redesigned site and their second Telly Award in hand, the team at Anchor is ever pushing to expand their knowledge and the world of marketing. Visit anchorstl.com today to learn more.