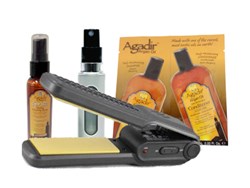 I use to be the one who was holding up the line at the security check points, having to dump my shampoo's and products because they didn't meet the TSA requirements, thanks to these space saving tricks it takes me no more than 2 minutes!
(PRWEB) June 04, 2013
Whether taking a road trip or Leavin' on a Jet Plane, life becomes complicated when figuring out what to bring. Between the passports, bikinis, sunglasses and the over-sized cosmetic bag that barley fits in the one carry on allowed on the plane, everone could use a helping hand when traveling. Regardless of what the vacation plans are, everyone can agree that stripping to the bare essentials can leave people feeling unprepared. Experts from TheBeautyPlace.com have the space saving, multipurpose essentials that everyone needs on their summer travels.
Layovers and long days of traveling leave people looking and feeling tired. Thebeautyplace.com has those jetsetters covered. The straight from the Plane kit contains everything a women needs to look perfect as she's strutting down the runway. Puffy, tired eyes are no match for the Murad TSA approved hydrating moisturizer. At this point the luxury of a shower is probably not close at hand; dry shampoo will instantly absorb all the excess oil and lend amazing volume. How can one forget the convenient cheek and lip color? Two in one duo product with the aid of the mirror compact lends the perfect tint and refreshing color leaving the smart flyers ready to take on the city!
Now that one made it to hotel looking fabulous, there is also the issue of the next few nights. Nobody wants to be labeled as having Hotel Hair. Hotel Hair becomes unavoidable when people have no other than to use the hotel's no brand shampoo and conditioner, leaving hair unmanageable and definitely not photo approved. TheBeautyPlace.com has made it simple and easy to bring people favorite travel products in one compact kit, the weekend travel expert. It encompasses travel friendly Agadir shampoo, conditioner and Agadir Argan Oil Spritz 2oz Travel Size. It also includes a Travalo Perfume Optimizer which gives people the ability to take their favorite scent in a portable travel friendly, not to mention, stylish, spray bottle. Lastly, it contains a mini chi flat iron that is small enough to fit perfectly in a purse.
From the Plane through the weekend the beauty experts will have people looking photo ready and TSA approved no matter what their unique beauty regime is.