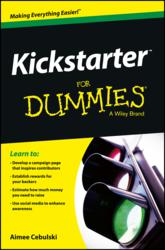 Whether it's an idea for a movie, video game, gadget or anything in between, Kickstarter For Dummies is the guide to help creators get the funds to make that idea happen.
Hoboken, NJ (PRWEB) June 03, 2013
Today, the world's bestselling reference series, For Dummies® announces Kickstarter For Dummies (Wiley, 978-1-118-50543-4, May 2013, US $16.99), a friendly and comprehensive guide that walks readers through the process and potential of the crowdfunding website Kickstarter, an amazing tool that has helped project creators successfully launch their projects since 2009. In a straightforward and fun language that has defined the For Dummies series for over 20 years, author Aimee Cebulski provides a guided tour of how ambitious, innovative, and imaginative projects are brought to life through the direct support of others.
Inside, readers learn how to create a Kickstarter account, set up a first project, and effectively use social media to bring awareness to the project and build up the community around it to reach the goal of 100 percent funding. Some of the topics covered in Kickstarter For Dummies include:

How to determine if the requirements to create a project are met
Getting started with creating a first project, choosing a great project image, and writing a compelling project title and description
Establishing rewards for project backers
Deciding a funding duration and funding goal
Whether it's an idea for a movie, video game, gadget or anything in between, Kickstarter For Dummies is the guide to help creators get the funds to make that idea happen. The book is now available for purchase online and at retailers nationwide in both print and all e-book formats. For a full list of retailers, visit http://www.dummies.com/buy/9781118505434. For additional information about this book and related For Dummies products, visit http://www.dummies.com.
About the Author
Aimee Cebulski is a lifelong traveler who has visited 46 countries and used Kickstarter to successfully fund publication of her book about women turning 40 around the world, The Finding 40 Project (http://www.finding40.net). Cebulski has worked as a freelance travel writer, photographer and blogger for the last 15 years. In her travels, she has written for publications and web sites such as Boots N All, Advertising Age, Scuba Diving Magazine, AdWeek, The Riverside Press-Enterprise, The Arizona Daily Star, Ranch & Coast Magazine, San Diego News Network, The Orange County Register, TravelHoppers.com, The Minnesota Star Tribune and Los Angeles Family Magazine, among others. A seasoned marketer, she is passionate about sharing her experience with the Kickstarter and the power of this fundraising and outreach tool.
About For Dummies®
After over 20 years, more than 250 million copies printed, and millions of e-books downloaded, For Dummies is the world's bestselling reference series, well known for enriching people's lives by making knowledge accessible in a fun and easy way. Loyal customers around the globe agree that For Dummies is "more than a publishing phenomenon … [it is] a sign of the times," [The New York Times]. With more than 1,800 active topics covering everything from health to history, music to math, sports to self-help, technology to travel, For Dummies is dedicated to Making Everything Easier. The For Dummies brand presence continues to expand wherever there is a need to know, including e-books, mobile apps, e-learning courses, a corporate custom publishing program, a robust consumer website and a licensed product line that includes consumer electronics, culinary, crafts, video, software, musical instrument packs, home improvement, automotive, game and more. For more information, visit Dummies.com. For Dummies is a branded imprint of Wiley.
###