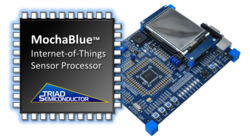 Triad Semi's VCA tech is getting companies in the wearable tech sector to market quickly with Internet of Things products.
Chicago, IL (PRWEB) June 03, 2013
Triad Semiconductor to present an affordable means for making custom wireless sensor interface integrated circuits (ICs) at the Sensor Expo Pre-Conference Sympsia #3: Sensors as a Service at the Edge of the Internet of Things (IoT). Embedded developers are being asked to make 'everything' interconnected.
Although it might sound a bit counterintuitive, the challenging part of the Internet-of-Things market has to do with the emerging requirements of the "Things-part" of IoT. Triad Semiconductor will present a method that uses configurable mixed signal IC technology coupled with low power ARM microprocessor IP and Bluetooth 4.0 radio technology that will enable embedded developers to deliver sensor platform ICs for the IoT market in record time at less than one quarter the cost of traditional development methods.
Even a few years ago the IoT concept would have been a daunting design challenge requiring the development of expensive and proprietary networks. Three technology advances have brought the IoT to the verge of being common technology that will be used everywhere. The three technologies that have come together are: (1) the Internet, (2) Smartphones and (3) Bluetooth 4.0 Low-Energy (BLE) communications. These three technologies truly are everywhere.
An Internet of Everything sensor platform developer is looking for a way to combine multiple sensor inputs, support precise analog processing, digitize these inputs, process them locally with sophisticated microcontroller algorithms and then transmit the smart sensor information wirelessly to a nearby paired cellphone through a Bluetooth 4 radio link.
Triad's Reid Wender, VP of Marketing and Technical Sales show attendees how to quickly make sensor platforms and achieve major cost savings. Wender's presentation will include:

An introduction Via Configurable Array (VCA) technology from Triad Semiconductor for rapid, low-cost chip development
MochaBlue™ an ARM-Powered® Cortex-M0 configurable array with BLE radio optimized for IoT and wearable technology applications
ViaDesigner™ mixed signal design and simulation software that enables system designers to create their own VCA solutions without the need for custom IC design know-how
"Triad gives designers a complete Internet of Things design environment," said Wender. "The combination of VCA tech, MochaBlue and ViaDesigner means an engineer can quickly and inexpensively design wearable tech for fitness, medical and machine-to-machine applications."
For more information on the Sensors-as-a-Service Symposium
Presenters in this symposium will provide insight and in-depth analysis into the ideas and trends which need to be understood to create "Sensors as a Service". Experts will explore technologies in the analog, digital and software domains such as high efficiency, low-power microcontrollers, wireless connectivity, analog signal chains and power management.
Attendees will leave with an improved understanding of:

Current state, future outlook and emerging technologies for the IoT
How silicon IP can help differentiate smarter sensor designs
How software IP can accelerate time to market, lower development costs, and improve reliability and security of IoT solutions,
Where value can be unlocked in the IoT, moving beyond simple interconnects to fully integrated "sensors as a service" for B2B and B2C applications.
Sensors-as-a-Service Symposium @ Sensors Exp
About ViaDesigner
ViaDesigner was selected as one of EDN Magazine's Hot 100 Products of 2012. Thousands of designers are already using ViaDesigner and actively contributing reference designs to the ViaDesigner community.
A free, fully-functional copy of ViaDesigner can be downloaded from http://www.viadesigner.com.
Getting Started on a ViaASIC Design with Triad Semiconductor
Companies with mixed signal applications that could benefit from the low-costs, accelerated-development and low-risk of ViaASIC integration should contact Triad at sales(at)triadsemi(dot)com. Call (336) 774-2150 to speak with a ViaASIC application architect and explore the technology and business benefits of ViaASIC integration.
Via Configurable Array Technology
Triad is a fabless semiconductor company and leading supplier of configurable mixed signal integrated circuits (ICs). Triad utilizes patented via configurable array (VCA) technology that reduces custom IC development costs by 75% or more and allows for designers to go from project kickoff to working silicon in as little as 3 to 6 months. VCA technology only requires a single semiconductor mask change (the via mask) to configure and interconnect any analog or digital resource. Single via mask configuration means design re-spins or derivative designs can be taped out, fabricated, packaged, tested and delivered to customers in four weeks. This compares to the project-killing four- to six-month delays that can occur with full custom chip design.
About Triad Semiconductor
Triad Semiconductor is on a mission to make mixed signal IC design fast, easy and affordable. Founded in 2002, Triad is a trusted supplier of configurable mixed signal ASIC solutions to the defense, aerospace, medical, industrial, commercial and automotive markets. Triad was recognized in 2012 as one of Inc. Magazine's 500 Fastest Growing Private Companies. Triad is an ISO9001:2008 certified company. Triad is ITAR-certified and supports a fully ITAR-certified supply chain for defense applications.