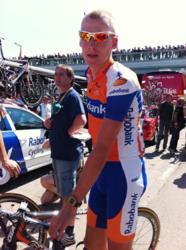 What's unique about this GPS watch is that it is the lightest integrated GPS with 8 hours of run time at a mere two ounces
Bozeman, MT (PRWEB) June 02, 2013
The new Polar RC3 Tour de France GPS watch is the official training computer of the 100th annual Tour de France for a limited time only at Heart Rate Watch Company.
"What's unique about this GPS watch is that it is the lightest integrated GPS with 8 hours of run time at a mere two ounces", says Rusty Squire, President of the Heart Rate Watch Company. He adds, "It'll also be the only watch ever produced with the 100th anniversary logo for the Tour de France".
HEART RATE ONLY & BIKE VERSIONS
The Polar RC3 Tour de France comes in versions with heart rate strap and a bike version that includes the Polar CS WIND cadence sensor. "It's a super GPS heart rate monitor for runners, cyclists and virtually anyone who participates in sports outside", says Squire.
TESTED
Heart Rate Watch Company tester and elite Nordic skier Brandy Stuart trained with the Polar RC3 throughout the 2013 competitive season and had favorable comments regarding the watch. "Brandy liked the lightweight integration and commented on how comfortable the new Polar soft strap was", says Squire.
The RC3 Tour de France also works with the Polar S3+ foot pod for those that prefer running and want run cadence.
LIMITED AVAILABILITY
The Polar RC3 Tour de France 100th anniversary edition has limited availability and once the Tour itself is over in late July these will be gone.