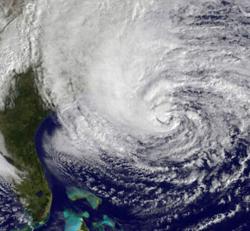 Everyone should be prepared for severe weather...
Neptune, NJ (PRWEB) June 03, 2013
Hurricane Season begins on June 1 and ends on November 30. However, tropical storms, hurricanes and cyclones can occur at any time.
Experts describe a hurricane as a severe tropical storm with a circular motion that forms in the warm waters of South Atlantic Ocean, the Gulf of Mexico, the Caribbean Sea and in the eastern Pacific Ocean. Hurricanes can produce damaging winds in excess of 150 mph, storm surges, flooding due to heavy rainfall even tornadoes – all which can cause catastrophic damage.
The United States experienced an extremely active hurricane season in 2012. It was a year that saw the third most named storms on record. The worst of those storms was Hurricane Sandy otherwise known as "Superstorm Sandy" or "Frankenstorm."
Hurricane Sandy formed on October 22, first striking Cuba, then moving up the coast when it turned eastward over New Jersey. Hurricane Sandy was the second costliest Atlantic Hurricane on record, with estimated damaged of $75 billion and left 285 people dead.
"Everyone should be prepared for severe weather, including tropical storms and hurricanes," says Chief Donald Colarusso, who is the president of All Hands Fire Equipment and a 25 year veteran of the fire service. "Being prepared and having a plan is the most important way to safeguard your family."
These tips can assist with Emergency Preparedness for hurricanes and severe weather emergencies:

It is important to have family emergency plan prepared now. Waiting for severe weather or a disaster to happen is a bad practice. Being prepared and keeping essential items on hand such as flashlights, radios and fresh drinking water can be a life saver.
Knowing how to receive important information through the radio, news, and internet websites is key
It is good to become very familiar with the areas surroundings especially immediate areas including, property, neighborhood, flood-prone areas, rivers, damns, levees, etc. Communities could be so devastated by severe weather that they become unrecognizable.
Forward thinking and planning can provide time to secure property. Securing patio furniture, barbeque grill, garbage cans, decorative lawn items, etc can prevent these items becoming missiles and causing unnecessary damage and injury.
Keeping trees trimmed will lower risk of wind damage and can prevent broken limbs bringing down power lines.
Gutters and downspouts should always be maintained and kept clean to prevent water from entering buildings.
Covering windows on the exterior is ideal, recommended methods include use of storm shutters or 5/8" marine grade plywood.
In the event of evacuation, it's important to know the local Coastal Evacuation Route and/or community escape plan. Flood-prone roads and bridges should be avoided.
Identifying important documents, heirlooms and personal belongings, making them easily accessible, and placing them in a safe means of transport in the event of an emergency evacuation is also a great way to prepare.
Appropriate insurance coverage for potential disasters is important and can provide peace of mind.
Hurricanes are a very real threat and have the potential to cause catastrophic damage to not just homes and property but to entire communities. Disaster preparedness includes following instructions of emergency management officials.