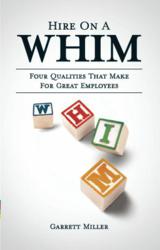 "There are amazing candidates on campus and if you are careful about the qualities you hire you will find superstars in this year's graduates."
Andover, NJ (PRWEB) June 12, 2013
NJ-based Author and CoTria's CEO responds to York College of Pennsylvania Center for Professional Excellence's, Professionalism in the Workplace survey, giving recruiters insight on how to recruit the best from today's campuses.
For years there has been a debate as to whether this current generation, often referred to as Millennials, displays a greater lack of professionalism than those that have gone before them. The results from this survey of 401 human resource professionals demonstrate that the perception from those that interview and hire today's graduates have a growing concern. The conclusions of the survey point to no clear improvement in professionalism and in some cases a worsening.
Miller spent twelve years as a recruiter on college campuses interviewing and hiring for a Fortune 50 company. Based on his experiences he wrote: Hire on a WHIM – Four Qualities That Make for Great Employees. He believes that the four qualities: Work Ethic, Humility, Integrity and Maturity, which make up the acronym WHIM, are the keys to hiring a student who is professional and ready to contribute to your organization.
"I've heard these complaints for years and have seen recruiters back away from hiring students who are fresh out of college. It is not unusual that the latest generation to emerge from college is seen as lazy or lacking by the generations ahead of them but there seems to be some unique differences about the Millennials." Miller is referring to data that seems to agree with the York survey. For instance almost half, 48.6% surveyed in the York survey believe that less than 50% of new employees exhibit professionalism in their first year and that over 50% of those who responded see an increase in new employees exhibiting a sense of entitlement. While 44.6% of those responded believe that work ethic is worsening.
"I think this is a useful survey and has some helpful insights for both recruiters and for students. Whether today's graduates want to defend themselves or not is not the point, it is how they are perceived in the workplace and perception is reality. Instead, students should use this information and make sure that they are displaying and can demonstrate the qualities that recruiters are looking for."
Miller believes the qualities displayed in the acronym WHIM (Work Ethic, Humility, Integrity and Maturity) are helpful when trying to discern which candidates will be most successful coming out of college. "In my decade plus of hiring, I've identified four qualities that seem to break the Millennial mold. I recruited almost exclusively on campus and found that when I hired all four of these qualities, I hired someone who was unlike those being described in the York survey. In my experience candidates who possess WHIM have been extremely successful. They know how to work, take constructive coaching without being offended and have the maturity to know when to ask questions when they are stuck."
"Unfortunately for Millennials," Miller explains, "other statistics when added to the York survey are troubling for both students and employers." According to National Labor statistics the average worker will change jobs every eighteen months while in their twenties. That is not a comforting figure to employers who are seeing many of the dollars they've invested in young hires walk out the door before they have begun to contribute. I, and others who have used this criteria have found that this particular combination of qualities helps recruit candidates who are more stable in the marketplace and tend not to be in and out of jobs so quickly."
Miller gives a few ideas on how to hire WHIM:
Work Ethic: Look for students that have a full resume; students who are naturally busy and active. Those who appear to be over committed often have a natural work ethic. As you review each of their activities ask, how many hours they spent performing the activity and for examples of what that looked like. This helps interviewers understand how busy the candidates truly were. Students will sometimes join a group or activity because they know it looks good and helps fill out a resume. Asking how many hours a week they spent on each activity will help reveal, if in fact, it was an activity that they invested themselves in.
Humility: Have you ever tried to teach someone who knows everything? We must find candidates who have the ability and the willingness to learn. Ask candidates about a recent failure and what they learned from it. Listen for excuses verses ownership of the failure. How have they put what they learned into practice? Ask about their most difficult class and why it was difficult? Was it the professor's fault or did the candidate play a role in the situation? Was the student given the grade or did they earn the grade; again we are looking for ownership.
Integrity: Some of the questions already suggested can give you hints of a candidate's integrity. If they included items on their resume for show and yet claim they were active members, this can be an integrity flag. Candidates who blame their failures or poor performance on others may also display a lack of integrity.
Maturity: Bitter or Better? Ask a candidate about a recent struggle or hardship. Remember that a candidate's definition of hardship will be unique to them, it is not so much the hardship that I'm concerned about but how they responded to it. Can they look back on hardships and see that they have grown from them or do they look back on them and resent the hardships? I was most impressed with candidates who, after sharing a particularly difficult struggle would say that they are better, stronger or more mature because of it. That is a sign of maturity.
"Hiring all four is essential if you have three strong qualities and one weak one, I'd pass, unless you are ready to spend the time and energy to coach that one quality. If a candidate is weak or you have some concerns, concentrate on that quality during their second interview." The York survey continues to support what many others are saying about the Millennials, but don't lose hope. Miller says. "There are amazing candidates on campus and if you are careful about the qualities you hire you will find superstars in this year's graduates."
Miller's advice for those currently in college: "If you want to improve your chances of being hired upon graduation you'll want to make sure that you possess and are able to demonstrate WHIM."
The book is available as a soft cover and e-book. It is available at most online suppliers and at CoTria.com.
For Garrett's discussion of WHIM, watch this TV interview.
GARRETT MILLER is a workplace productivity coach and trainer, keynote speaker, and author of Hired 'Right' Out of College – From Classes to Career. He is president and CEO of CoTria, a company that provides time-saving solutions to help clients manage more efficiently. During his previous 18-year business career in a Fortune 50 pharmaceutical company, Miller received awards for leadership, teamwork, and sales performance. He has extensive experience in hiring and training sales representatives and has a strong reputation for his ability to attract and retain top talent.