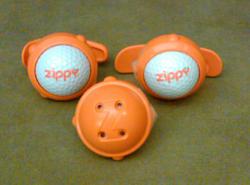 Wanted to give you some feedback... my massage therapist loved it and tried it on me...I love that you can use it anywhere, anytime. I have fibromyalgia, so your device is going to help me a lot!
Phoenix, AZ (PRWEB) June 03, 2013
Zippy Rolling Ball Therapy devices are now available to students and the public at Healing Arts Connection, 1717 W Northern Ave, Suite 115, Phoenix, 85021. With continuing education to inspire and re-energize since 2001, Healing Arts Connection, LLC provides effective and integrative body-mind-spirit continuing education to massage therapists and other healthcare professionals as well as individuals interested in expanding their opportunities for self-healing and complementary healthcare practices. Online: http://www.alternativehealingconnection.com
Zing Partners LLC manufactures, and distributes Zippy Rolling Ball Therapy (RBT) massage devices made in the USA. Zippy devices combine a golf ball (which is the perfect size and shape for massage) with a durable shell so the ball can be held comfortably during use with full control. Zippy RBT devices make relaxing massage available anywhere.
Zippy RBT devices are used daily by athletes, personal users, and every strain of professional physical therapists for peak performance, relaxation, and exceptional results. Zippy massage tools provide an easy to use interface to relax sore muscles, work tissue around joints or scars, sooth deep muscle injury, untie "knots", and sooth spasm.
Zippy RBT devices come in three models: the Basic, the Rocker Handle, and the T-Handle. The Rocker and T-Handle models extend grip opportunities and provide integrated therapy tools for expanded functionality anytime. Zippy RBT devices are compact, convenient to carry and use, readily accessible in golf bag, purse, pocket, glove box, nightstand, and sports bag. They are excellent to use when frozen for "spot on" cold therapy. Please visit http://www.zippymassage.com for more information.
Zippy Rolling Ball Therapy massage devices are available online at http://www.zippymassage.com and on Amazon. Check out the Zippy RBT YouTube Channel. http://youtu.be/ajJWhzr1c5M. Visit Zippy RBT – Rolling Ball Therapy on Facebook and "Like". Follow @ZippyRBT on Twitter.
Zippy Rolling Ball Therapy devices have been submitted for the 2013 Core77 Design Awards.
Zing Partners LLC will donate $5 to Hoil Heroes Foundation to assist pediatric transplant patients and their families through August 31, 2013 for each device purchased online.