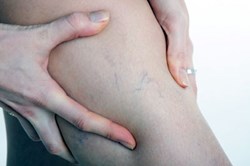 The changes a woman's body undergoes while pregnant can increase her risk of several health problems, including varicose veins
Winston-Salem, NC (PRWEB) June 19, 2013
In honor of women everywhere, Winston-Salem based vein center Novant Health Vein Specialists is providing information that women can use to improve their health, especially their venous health.
Pregnant women should pay close attention to their health, as their well-being affects the health of their babies. "The changes a woman's body undergoes while pregnant can increase her risk of several health problems, including varicose veins," says Dr. Ray Workman, a leading vein doctor at Novant Health Vein Specialists. These veins may become less severe a few months after delivery.
Any woman can take advantage of the information that Novant Health Vein Specialists is providing. Tips and ideas about many aspects of women's health will be available on the varicose vein center's Facebook, Twitter pages, Google+ and blog.
Whether a woman is pregnant or not, having an understanding of the health issues she may face will help her live a better life. All women are encouraged to take a stronger role to learn more about female health issues.
For more information, visit: Salemveins.com
Varicose Vein Treatment Options
Varicose veins and spider veins are extremely common in men and women. While spider veins are very small, reddish veins on the surface of the skin, varicose veins are much larger, bulging, tangled veins that may appear bluish in color. Men and women suffer from varicose veins, although women are much more likely to have them. Today, patients have access to a number of effective varicose vein treatment options. Advancements in technology and medicine have led to the development of effective, minimally invasive treatments that produce optimal results with few side effects or downtime. These treatments include sclerotherapy, radio frequency ablation, phlebectomy, and endovenous laser ablation.
About Novant Health Vein Specialists
Novant Health Vein Specialists is Winston-Salem, North Carolina's foremost provider of customized, state-of-the-art care for vein disorders and minor aesthetic skin conditions. Their expertly trained and caring team of health professionals and skin therapists are dedicated to providing patients with the highest quality of vein care and cosmetic services. The center offers advanced and minimally invasive therapies to treat a wide range of vein and skin conditions. Dr. Ray Workman leads the medical staff. He is board certified in vascular surgery by the American Board of Surgery, and one of only four board-certified private practice vascular surgeons in Winston-Salem. Dr. Workman works closely with fellow vein experts Dr. Stephen Motew, Dr. R. Bradley Thomason, Dr. Phil Moore, and Dr. Joel Deonanan.
Novant Health Vein Specialists
http://salemveins.com
Tel. 336-245-4890