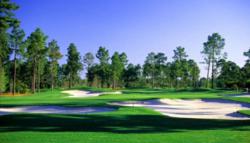 The Prime Times Rewards Package gives golfers an unprecedented combination of price and value
Myrtle Beach, SC (PRWEB) June 03, 2013
National Golf Management is giving golfers what they want this fall when they play 22 Prime Times Signature Courses in the Myrtle Beach area.
As part of National Golf Management's innovative new Prime Times Rewards Package, each member of a group receives a $100 Rewards Card when they book four or more fall rounds at any Prime Times Signature Course.
Rewards Cards can be redeemed for any combination of food and beverage or merchandise in any Prime Times Signature Course clubhouse.
"The Prime Times Rewards Package gives golfers an unprecedented combination of price and value," said Steve Mays, vice president of sales and marketing for National Golf Management. "This puts the power in the hands of customers, providing them with an exciting, new benefit."
Prices for the Prime Times Rewards Package, offered from Sept. 5 through Nov. 17, start as low as $204.
Golfers can book the Prime Times Rewards Package through most Myrtle Beach golf package providers or they can visit http://www.MBN.com or call 866-241-5992.
About National Golf Management Company
National Golf Management Company (NGM) is the foremost golf course management company in the Southeast. Formed in 2012 with a merger of Myrtle Beach National Company and Burroughs & Chapin Golf Management, NGM oversees, through ownership and/or management, 22 Prime Times Signature golf courses in and around Myrtle Beach, S.C., one of the world's most popular golf destination markets. This makes NGM one of the largest golf management entities in the United States.
NGM administrates http://www.MBN.com, a leader in online tee time booking, as well as package outlets Ambassador Golf and Myrtle Beach Golf Trips. With the help of MBGolfInsider.com's 100-percent player-generated course ranking system, thousands of golfers plan and assemble their ideal golf itineraries through NGM, including "top-100 caliber" courses Pawleys Plantation Golf & Country Club, Grande Dunes Resort Club, King's North at Myrtle Beach National Golf Club and more than 80 other Myrtle Beach area courses.
For more information about NGM, visit http://www.nationalgolfmanagement.com or http://www.mbn.com.