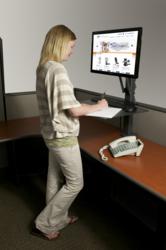 We wanted to be able to provide a simple and an affordable way for people to work in a healthier environment
Burnsville MN (PRWEB) June 02, 2013
The new TaskMate EZ from HealthPostures in now one of the simplest and most cost effective ways to transform an ordinary desk into a sit to stand workstation. This will translate to a healthier and more energetic workplace.
Many of us still spend long hours each day sitting in front of a computer yet research shows the health hazards of sitting for long stretches are significant even for people who are quite active when they're not sitting down. The healthy solution is simply having the option to move from a sitting to a standing position throughout the work day. The idea using a sit to stand workstation started out small but is now becoming main stream with more people that are more understanding of the benefits of moving at work.
HealthPostures is now offering the new TaskMate EZ which is one of the most cost effective ways for computer users to work in a sit-stand workplace. "We wanted to be able to provide a simple and an affordable way for people to work in a healthier environment" states HealthPostures president Jared Elliott. "The reason the TaskMate EZ is so cost effective is because of the simple design. There are really only three main parts to the EZ making it easy to use in an office setting." The TaskMate EZ has two adjustable brackets on a single mast that will attach to a standard desk using a grommet mount or an optional clamping system. The brackets adjust in height independently allowing the user to work in a sitting or a standing position as to encourage active movement and provide a natural way to gain more energy while at work.
The TaskMate EZ retails for under $300 per unit making it one of the most affordable sit to stand options available on the market. "We hope that the EZ will encourage more computer users to move and stay healthy at work." states Elliott.
The TaskMate EZ is available through HealthPostures nationwide network of dealers.