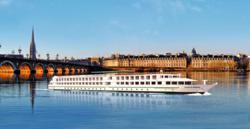 (PRWEB) June 04, 2013
With the christening of their newest ship, The Cyrano de Bergerac, on May 16, 2013, CroisiEurope adds a second ship to their successful river cruise voyages from Bordeaux into French wine country. Bordeaux is the oldest and largest of France's wine growing regions.
The Cyrano de Bergerac will cruise from Bordeaux, France on the Gironde Estuary and the Dordogne and Garonne rivers. This region, which is world renowned for its fine wines, boasts some of the most beautiful villages in France.
It is a breathtaking and historic region.
This new jewel in the CroisiEurope fleet will offer cruises from 5 to 8 days from March through November. The Cyrano de Bergerac will call on Bordeaux, Pauillac, Blaye, Libourne and Saint-Émilion.
The ship will offer 90 spacious and comfortable cabins on three passenger decks. This is a refined and well-appointed vessel. It has a specially designed hull that allows it to cruise on both the estuary and the rivers.
The Cyrano de Bergerac is 110 meters (363 feet) long by 11.4 meters (37 feet) wide. The attractive restaurant is large enough to serve all passengers in a single sitting. A spacious lounge bar with a dance floor offers passengers an ideal area to relax, have a drink and watch the scenery. There is also a Panorama Bar, which is smaller and cozier and a very large sun deck, where passengers can relax in fresh air and enjoy the gorgeous scenery.
The boat is equipped with cutting edge technology and offers its passengers both comfort and safety. Each cabin is equipped with en suite shower and WC, a flat screen television, hairdryer, safe, radio and individually controlled air-conditioning and heating.
CroisiEurope is one of the oldest and largest river cruise companies in the world operating 30 ships with programs on all of Europe's major and minor rivers. They are now entering the US market with a wide array of river cruises that will appeal to American travelers, with shorter itineraries and attractive pricing.
France is their main market; where they have 8 ships and one barge that cruise exclusively in France on the Seine, Rhone, Gironde and the canals of Burgundy and Alsace. There are several ships that operate from their home port of Strasbourg.
CroisiEurope offers cruises on all of the major rivers of Europe including the Rhine, Danube and Holland Waterways, but, they also have ships on the Douro River in Portugal, the Guadalquivir in Spain, the Venetian Lagoon and the Mekong River in Vietnam.
CroisiEurope is represented in the US & Canada by Euro River Cruises.