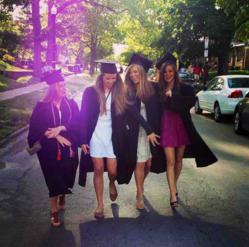 Students, parents, honored guests...
Cleveland, OH (PRWEB) June 01, 2013
Laugh Staff, the company that writes and edits best man and maid of honor speeches, extends their writing services to class presidents and valedictorians for all levels of schooling. The company consists of comedians and professional writers who want to help strengthen speeches making them both funny and memorable.
"Graduation from any level of school can be excruciatingly long; especially if each speaker is saying the same things over and over again," said Laugh Staff consultant Kali Fencl. "Laugh Staff consultants will help class presidents, valedictorians and salutatorians give a speech that is sure to not only entertain family and friends attending commencement, but will leave a lasting impression."
In an article by PR Daily, keynote speakers at various graduations gave valuable advice on what to include when writing a speech for a graduation ceremony. For example, Olivia Pope from the TV show "Scandal" emphasized compiling research on the demographics of the audience. This is something that Laugh Staff urges their clients to do before speaking at a wedding.
In addition, the keynote speakers from PR Daily also provided valuable wisdom for the graduating class. For example, Belinda Gates stressed the importance of human connection in a text-driven world. Former Congresswoman Gabrielle Giffords emphasized boldness and urged taking risks.
Laugh Staff would like to urge clients to be bold and take risks as well. The company would like to help clients write and deliver a speech that is both thought provoking and entertaining. They realize that it is the class president or valedictorian's speech – they just want to help make it better.
For more information about Laugh Staff, Inc. visit http://www.laughstaff.com, call 740-706-6690 or email info(at)laughstaff(dot)com.
About Laugh Staff, Inc:
Laugh Staff, Inc. was founded in 2012 by a team of comedians and writers in Cleveland, Ohio. Laugh Staff helps their clients with best man speeches as well as providing best man speech examples on their blog. They assist best men and maids of honor in speech-editing, speech writing, and provide training on speech delivery. Recognizing the importance of the big day, Laugh Staff's professional comedians work with best men and maids of honor to ensure they make a lasting impression.