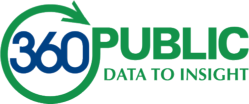 Services like 360-Public make critical information more usable and accessible for decision-making.
Hudson, OH (PRWEB) June 04, 2013
Visitors to the website can quickly and easily get informed about any area they are interested in, within the State of Ohio, by comparing metrics and building their own studies using public statistics from trusted organizations such as the US Census Bureau and state sources.
In the past, researching public data such as local employment, per capita income, demographics, or market segments meant spending countless hours gathering bits of information from hundreds of sources, then personally compiling it into a useable format, all before sitting down to actually analyze any of it. With 360-Public, the compiling and sorting has already been done, so users can quickly find the information they are looking for, and display it in a visual format that makes it easy to understand, without the hassle of sifting through piles of irrelevant data they do not need.
Said CEO and co-founder, Dan Quigg, "Our goal with 360-Public is to make public data easy to find, and package it in a way that allows users to gain meaningful insights."
360-Public was developed with the extensive cooperation and support of government and public policy officials. "While both government officials and the public have access to more data than ever before, it is time-consuming and tedious to pull it together," said President of the State of Ohio Controlling Board, Randy Cole. "Services like 360-Public make critical information more usable and accessible for decision-making. This is important across the board for public officials, researchers, the media, and concerned citizens as well."
The service is free for all basic users, with tiered subscription pricing available for more advanced features and additional data.
Currently, 360-Public provides information for the entire State of Ohio, with plans to expand services nationally by the end of 2013.
About 360-Public
360-Public is a web based software-as-a-service that transforms disparate public data into a single, extendable analytic platform for use in researching markets, informing public citizens, sustaining communities, and empowering governments. 360-Public is free to the general public with paid subscriptions for broader, advanced analysis and application.