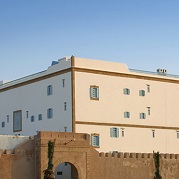 "Every time I return to Morocco, I discover new places."
Toronto, ON (PRWEB) June 04, 2013
Butterfield & Robinson, a world leader in luxury travel, has introduced a new way to explore Morocco's rich culture and varied landscape with its new Morocco Walking trip.
Continuing B&R's longstanding love affair with the country, the newest trip in their Morocco series allows visitors to take a longer, slower look around this vibrant land.
Explore a hiker's paradise with treks from the High Atlas Mountains to the Atlantic Coast while meeting local villagers and enjoying traditional Moroccan meals throughout. Take in the country's culture in bustling Marrakech, including visits to the Museum or Art and ancient Medina, where craftsmen and vendors provide a glimpse of daily life in the city.
"Every time I return to Morocco, I discover new places," says B&R Trip Planner Olivier Maillard. "It's always a pleasure for me to accompany first-time visitors and see them react to this wonderful country."
With one departure in Spring of 2014 and two in the fall, B&R's new Morocco Walking trip treks through lush valleys and charming rural landscapes, offering discoveries as surprising as they are delightful.
For more information on this trip and more visit http://www.butterfield.com.