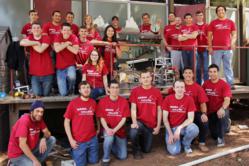 "This is the club's third year to compete and place in the competition, building a machine on their own time and competing with students from one of the most prestigious Engineering Universities on the west coast" Professor Philip Pattengale
Rocklin, California (PRWEB) June 04, 2013
Saturday April 20, the Sierra College Physics and Engineering Club came away with a top prize at the Rube Goldberg Machine Competition held at UC Berkeley. The club traveled to UC Berkeley for Cal Days, competing around 4pm where they won second place, including a prize of $500. The Sierra College Physics and Engineering club, which has 20 members, has been working on their 'Sierra Miners' themed machine for 4 months. "This is the club's third year to compete and place in the competition," commented Phil Pattengale, Sierra Engineering Professor and Club Advisor. "This is pretty amazing when you consider that these are Sierra College students, most with a job, building a machine on their own time and competing with students from one of the most prestigious Engineering Universities on the west coast."
The event was sponsored by the Theta Tau fraternity, the oldest and largest professional fraternity in the field of engineering. This competition highlights the inspiring work of the late engineer and cartoonist Reuben Garrett Lucius Goldberg. Rube Goldberg also attended UC Berkeley. His cartoons combined simple machines and common household items to create complex, wacky, and diabolically logical machines that accomplished mundane and trivial tasks. Rube Goldberg is the only proper name included in Webster's Dictionary as an adjective, referring to "accomplishing by extremely complex, roundabout means what seemingly could be done simply."
To view the award winning 'Sierra Miners' machine, go to:
http://www.youtube.com/watch?v=GhBoz4Hpia4.
For more information, contact Sue Michaels Public Information Officer at 916-660-7272.
Sierra College Mission Statement
Sierra College provides a challenging and supportive learning environment for students having diverse goals, abilities, and needs interested in transfer, career and technical training, and life long learning. The College's programs and services encourage students to identify and to expand their potential. Sierra College students will develop the knowledge, skills and abilities to become engaged and contributing members of the community.
Sierra College Vision Statement
We will challenge ourselves and our community to become fulfilled citizens in a global environment by contributing to and engaging in the thoughtful application of knowledge guided by respect for others and the world in which we live.