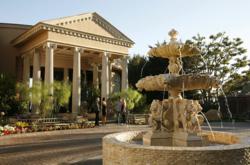 "We don't teach parenting at Passages, but we do regularly help people get to the core of what drives their addictive behavior." - Pax Prentiss
Malibu, CA (PRWEB) June 03, 2013
A recently published study has revealed what many people already intuitively knew; parents who focus entirely on the academic performance of their children raise underperforming, generally less happy kids.
Author Amy Chua popularized the term "Tiger Mom," with her 2011 book Battle Hymn of the Tiger Mother. When the book became well known, a University of Texas professor, Su Yeong Kim, revealed that she had data that could possibly prove or disprove Chua's books key claims.
Among the more controversial elements in Chua's book include strict focus on solely academic pursuits of her two daughters. Chua also forbade her daughters from most extracurricular activities, including common social interactions like sleepovers.
When Chua's strict parenting led one of her daughters to perform at Carnegie Hall, some were convinced that the Tiger Mom standard confirmed some of the stereotypes of Asian American, achievement-oriented parenting.
Su Yeong Kim's study looked at data from 444 Chinese American families, gathered over the course of ten years. She analyzed grade-point average and academic pressure, as well as warmth and shaming approaches to parenting. Profiles were eventually developed that categorized parents as supportive, tiger, easygoing, or harsh.
Children of parents categorized as "tiger" showed lower academic performance and more family alienation, relative to "supportive" parents. Of the four categories, "supportive" parents had the best developmental outcomes. "Harsh" and "tiger" parenting methods yielded statistically higher depression and lower achievement in children.
"During the course of developing our treatment program, we've assembled a holistic treatment philosophy that has helped people deal with the underlying issues of their addiction, which often include feelings of inadequacy," said Pax Prentiss, CEO of Passages Addiction Treatment Centers. "We don't teach parenting at Passages, but we do regularly help people get to the core of what drives their addictive behavior. Our experiences over the last twelve years have shown how important the dynamics of parents and kids often are, and how that can influence behavior in later life."
At Passages Malibu - Addiction Ends Here™
About Passages Malibu & Passages Ventura:
Father and son team Chris and Pax Prentiss founded Passages Malibu in 2001. Its second location, Passages Ventura, first opened its doors in 2009. The two alcohol & drug abuse treatment centers offer an alternative to the 12 step/AA model of addiction treatment by utilizing a holistic program that focuses on the underlying issues of substance dependency, rather than attributing addiction to an incurable disease.
Both Passages Malibu and Passages Ventura accept insurance and each have earned the coveted Joint Commission (JCAHO) accreditation, which has only been given to 6% of the nation's behavioral health treatment programs.
Passages Malibu was named the #1 treatment center in the world by Healthcare Global, one of the "Most Luxurious Places to Dry Out" by Forbes magazine, and the Huffington Post recently acknowledged Passages as a center that "caters to a high-end crowd, with many CEOs, entrepreneurs and high-powered professionals among its clients."
The co-founders are also authors of an acclaimed series of addiction treatment books, including their groundbreaking, flagship title, The Alcoholism & Addiction Cure.
For general inquiries about treatment, contact: 866-233-1753.
For media inquiries, contact:
press(at)passagesmalibu(dot)com