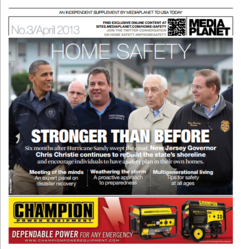 Safety Starts with Me
New York, New York (PRWEB) June 03, 2013
June 1st marks the beginning of the National Safety Council's "National Safety Month." National Safety Month is an annual observance to educate and influence behaviors around leading causes of preventable injuries and deaths. This year's theme is "Safety Starts with Me," and the goal is to engage everyone in safety and create a culture where people feel a personal responsibility not only for their own safety, but for that of their coworkers, family and friends. Mediaplanet's "Home Safety," which hit newsstands in USA TODAY in May, is a complete resource guide to preparing your home and family for both preventable dangers and unexpected threats that are out of our control. With tornado and hurricane season upon us, it is time we end the ubiquitous "it won't happen to me mentality" and be prepared.
To view the full site, click here
This glossy, full-color special section features New Jersey Governor Chris Christie, who discusses rebuilding the NJ Coastline in the aftermath of Hurricane Sandy, and what he's learned in the six months following the destruction. Industry experts Sheldon Yellen (CEO, BELFOR Holdings, Inc., parent company of BELFOR Property Restoration, the global leader in disaster recovery and restoration services) and Gail McGovern (CEO and President of The American Red Cross) led our panel discussion, providing invaluable insight on disaster relief and recovery, sharing their personal experiences in the space as they've been at the forefront of rebuilding efforts over the past several decades.
With the support of BELFOR Property Restoration, GE/Intel Care Innovations, The National Safety Council, The American Red Cross, Cummins Power Generation, The Centers for Disease Control and many more, we encourage Americans to take the proper precautions to safeguard their homes and lives this month and beyond.