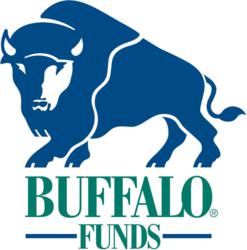 "We simply felt that the former name was too restrictive and didn't fully describe what the management team is doing to find growth opportunities in a small cap space"
MISSION, Kansas (PRWEB) June 03, 2013
Buffalo Funds is pleased to announce a new name for the Buffalo Micro Cap Fund, effective June 3, 2013: the Buffalo Emerging Opportunities Fund. We believe the new name more accurately conveys the mandate of the Fund as it seeks to invest in companies which are in the early stage of their growth. While the portfolio is made up of companies on the smaller end of the small cap spectrum, this Fund may purchase companies up to $1 billion in size at the time of initial purchase. We believe that small caps are an investment space in great demand for their potential to deliver historically significant returns for long-term investors.
"This is a great fund and we have been happy with its track record. We simply felt that the former name was too restrictive and didn't fully describe what the management team is doing to find growth opportunities in a small cap space," explains co-Portfolio Manager John Bichelmeyer. "While this Fund is really a small cap product, we feel that we often get our best returns from the very young, small – emerging – companies that have ground-breaking technology or ideas that can really have an impact on their industry. In our opinion, those are the kinds of companies that stand to grow strongly and generate significant returns for their investors. These are also the kinds of companies that, once they establish a reputation for quality or innovation, may be likely to be acquired by larger firms."
The Fund will retain its ticker and strategy. Managers John Bichelmeyer, CFA and Craig Richard, CFA will manage the Buffalo Emerging Opportunities Fund with the goal of generating long-term growth for investors using the Buffalo Funds' trend-based, disciplined investment philosophy.
To learn more about the Buffalo Emerging Opportunities Fund, visit http://www.buffalofunds.com or call 1-800-49-BUFFALO.
CONTACT:
Tony DeMarino
Kornitzer Capital Management, Inc.
(913) 754-1543, tdemarino(at)buffalofunds(dot)com
Mutual fund investing involves risk. Principal loss is possible. The Buffalo Emerging Opportunities Fund invests in smaller companies which involve additional risks such as limited liquidity and greater volatility. The Fund may invest in foreign securities which will involve political, economic and currency risks, greater volatility and differences in accounting methods.
The Fund's investment objectives, risks, charges and expenses must be considered carefully before investing. The prospectus contains this and other important information about the investment company, and may be obtained by calling 1-800-49-BUFFALO or visiting http://www.buffalofunds.com. Read carefully before investing.
The Buffalo Funds are distributed by Quasar Distributors, LLC.