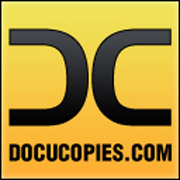 Businesses which are successful and profitable owe a debt to the communities they serve.
San Luis Obispo, CA (PRWEB) June 05, 2013
As Docucopies.com's President and CEO, David Pressley, is fond of saying, businesses which are successful and profitable owe a debt to the communities they serve. As the nation's leading online company for color copies and digital printing, Docucopies.com is lucky to be in a position to pay that debt. One way of fulfilling this responsibility is by getting involved in and sponsoring organizations which strive to make a difference in the world.
In recent years, Docucopies has taken initiative in supporting the following organizations:

Urban Arts Academy – a free after-school and summer arts program for at-risk youth in South Minneapolis, with hands-on programs including guided arts instruction and homework help
Perpich Center for Arts Education – a professional development institute and free public high school serving youth from across Minnesota with a focus on the arts
The Retreat – a drug and alcohol addiction treatment program in Minnesota
WOJB – Native American Public Radio based in Lac Courte de Oreilles, Wisc.
Secondhand Hounds, which provides temporary homes and adoption services for dogs
The Humane Society
The Tuolumne River Trust, a conservation and education program based in San Francisco
WISEPlace, a women's shelter and support program for abused and homeless women, based in Santa Ana, Calif.
The Women's Shelter Program of San Luis Obispo, Calif.
Fire/EMS Departments in Hudson, Wisc., and Winter, Wisc.
The Epilepsy Foundation of Minnesota
Toys for Joy
Christian Food Cupboard
Children's Miracle Network
The American Diabetes Association
Docucopies.com also recently sponsored the United States Women's Curling Team, who recently competed in the World Championship in Latvia, and numerous other, more personal events and causes.
For more information on Docucopies.com and their color printing services, visit them online at http://www.Docucopies.com.