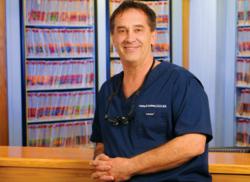 (PRWEB) June 01, 2013
Lindsay B. Eastman, DDS, MS, PA, now provides patients from Sarasota with Laser Assisted New Attachment Procedure (LANAP) for the treatment of periodontal disease. This minimally invasive procedure utilizes an FDA cleared laser to remove bacteria and diseased tissue. The PerioLase MVP-7 laser is designed to be particularly selective so that only the targeted tissue is removed by the periodontist. This leaves more healthy tissue in the mouth and can reduce the incidence of gum recession following gum disease treatment.
LANAP begins with measurements of the gum pocket depth by the periodontist. Next, the PerioLase MVP-7 is used to kill the bacteria and cut away the infected gum tissue. The remaining gum tissue is then packed against the tooth roots, and the laser is used to promote clotting so that the gums seal against the teeth without needing sutures to hold them in place. One additional benefit to the laser gum disease treatment procedure is that the laser stimulates natural regeneration properties of the bone. This treatment causes little pain or discomfort, and requires minimal downtime.
While most people may not think about gum disease very often, the fact is that millions of Americans have the disease. Many do not seek periodontal disease treatment. When the disease is diagnosed in the early stages, it can be reversed. However, when the disease has progressed to a more advanced stage it can become quite painful and may result in tooth loss. Some people have avoided treatment because of apprehension over traditional treatment methods. However, with LANAP no scalpel is used and pain levels are reduced. The results are long-term and are predictably positive.
Understanding gum disease is important to one's oral health. In addition, it has been linked to such illnesses as dementia, respiratory illness, and stroke, among others. LANAP is an advanced gum disease treatment method that a periodontist can perform to remove the majority of the infection. One can learn more about this procedure at http://www. bradenton-periodontist.com.
Lindsay B. Eastman, DDS, MS, PA is a periodontist offering patients personalized dental care for Bradenton, FL since 1980. Dr. Eastman received his Doctor of Dental Surgery degree from Loyola University Dental School where he completed his Graduate training in Periodontics and his Masters of Science in Oral Biology. He received his Post-Graduate specialty training in Surgical Placement of Implants from Northwestern University Dental School, and completed Business Management Training from Pride Institute. He is part of one percent of dental professionals providing the most recent FDA cleared laser procedure for gum disease and periodontal treatment. To learn more about Dr. Eastman and his dental services visit his website at http://www.bradenton-periodontist.com and call (941) 792-3899.