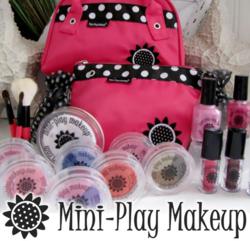 Some of our customers keep buying incremental items or kits, depending on whatever is new that year, because of the realistic yet mess-free nature of our pretend makeup.
Burley, ID (PRWEB) June 04, 2013
2012 will hardly be remembered for new highs in retail sales. However, for realistic yet mess-free, pretend makeup gifts for little girls supplier Mini-Play Makeup, Inc., it was another year of growth. Mini-Play Makeup, Inc. (miniplaymakeup.com) is a toy company with a simple mission; Give mothers and daughters a realistic, yet mess-free, pretend makeup experience in the form of gifts for little girls. When company founder, Heidi Miller could not find anything on the market that met her needs of a realistic yet mess-free pretend makeup solution for her daughter, she decided to make her own. Not long after, she was getting requests from her daughter's friend's mothers for kits of their own. These are often given to their daughters as birthday gifts for little girls or Christmas gifts for little girls, or any other special occasion one could think of.
Being an online only pretend makeup supplier, Miniplaymakeup.com has grown initially from E-bay postings, Etsy and eventually directly from their own web site. Sales have grown consistently from there. One contributing factor to the growth in 2012 was due to the fact that Amazon.com approached Mini-Play Makeup, Inc.; requesting that Mini-Play Makeup kits and individual items also be offered by the giant online retailer. However, over 90 percent of company sales still came directly from the company's website: miniplaymakeup.com.
Ike Miller, CMO of Mini-Play Makeup, Inc. has stated that "we look forward to continued growth in 2013 and have made investments in demand generation and manufacturing to help ensure that we do our part to make it so." "Some of our customers keep buying incremental items or kits, depending on whatever is new that year, because of the realistic yet mess-free nature of our pretend makeup," said Heidi Miller, founder. "Some even have bought for as many as four straight years." That's extraordinary loyalty in today's world. Mini-Play Makeup takes real makeup containers and turns them into charming kits for little girls to imagine themselves as a grown up and yet has no messy side effects because the makeup is not real. "We often get unique questions such as 'will this work as gifts for 5-year-olds'? To which we often reply with, "Mini-Play Makeup is primarily for girls aged 3-8 but can also be enjoyed by older children as well."