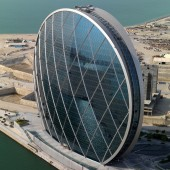 Como, Italy (PRWEB) June 04, 2013
A' Award and Competitions are proud to tell that the design Aldar Headquarters by MZ Architects has been acknowledged with the prestigious Platinum A' Design Award at Architecture, Building and Structure Design Category and picked as a winner by the international awarding commission of the A' Design Award & Competition amidst numerous participants.
Details of Aldar Headquarters
The Aldar Headquarters designed by MZ Architects has a distinctive and innovative design: a semi-spherical building comprising of two circular convex shaped facades linked by a narrow band of indented glazing. This iconic fully glazed structure is completely circular in elevation and curved in all other directions. The idea of simplicity and purity inspired by nature followed by principles and concepts of old architecture based on right proportions. The result is an extremely geometrical but represents daring contemporary building design.
To learn more about the award winning design, please visit: http://www.adesignaward.com/design.php?ID=27372.
The Platinum A' Design Award
The Platinum A' Design Award is a prestigious award given to top 1% percentile designs that have accomplished an exemplary level of quality in design. The designs are judged by a panel of three different jury which is composed of Academic, Professional and Focus Group Members. The designs are evaluated with score normalization to remove any biases and are voted on aspects such as functionality, ergonomics, engineering, presentation, innovation, usability, fun details, technology, and any other specific points that could be considered, each of these points is further weighted for different jury groups.
About A' Design Award and Competitions
A' Design Award and Competitions aim to highlight the excellent qualifications of best designs, design concepts and design oriented products. A' Design Award and Competitions are organized and awarded annually and internationally in multiple categories to reach a wide, design-oriented audience. Learn more at: http://www.whatisadesignaward.com.