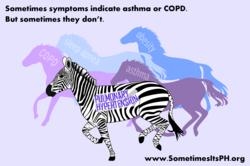 St. Francis, WI (PRWEB) June 03, 2013
A rare disease can make a patient feel very alone – just ask Kristen Wieneke of St. Francis. Wieneke had been living with a life-threatening lung disease, pulmonary hypertension (PH) for nine years, always feeling isolated by her condition which few people knew or understood. But meeting hundreds of others from around the country with PH at a conference last summer, Wieneke was inspired to organize a fundraiser for this illness, the Steps for Stripes Fun Walk for PH June 15.
The walk will benefit the Pulmonary Hypertension Association (PHA), which capitalizes on the power of connecting patients with one another, an experience bringing extraordinary hope to many with this illness affecting just 20,000 - 30,0000 Americans of all ages.
PH patients often have difficulty breathing. Short walks may leave them exhausted, and simple activities such as getting dressed or cleaning house can become challenging. Patients fear the impact of the illness on the ability to live, work, maintain a home, stay close with loved ones and pursue leisure interests.
PH is high blood pressure in the vessels between the heart and lungs. These vessels narrow and stiffen, causing the heart to work too hard to pump enough oxygenated blood to the body. If left untreated, PH may result in heart failure. Yet because the symptoms of PH – shortness of breath, chest pain, fatigue, and dizziness – resemble those of other diseases, PH is often misdiagnosed while symptoms worsen.
PHA, which sponsored the conference Weineke attended, is dedicated to connecting patients and families and educating them about this illness. PHA is also leading an early diagnosis campaign, Sometimes it's PH (http://www.SometimesItsPH.org), to help medical professionals differentiate the disease from asthma, COPD, sleep apnea and other common conditions for which it is often mistaken. The campaign is symbolized by a zebra, which in medical circles signifies an unexpected diagnosis.
Weineke adopted the zebra's stripes as a theme for her fundraising walk and awareness event benefiting PHA. Participants may walk between one-quarter mile and three miles, depending on their physical condition, at St. Francis Municipal Park (Milton Vretenar Park) 4224 S. Kirkwood Ave. The event, starting at 9:00 a.m., will include children's activities, a raffle and speakers from Froedtert & the Medical College of Wisconsin and from Children's Hospital of Wisconsin. Registration is $25.00 which includes an event t-shirt and refreshments.
For more information, contact Kristen Wieneke 414 690 0867 or email klr9773(at)yahoo(dot)com. Additional background on pulmonary hypertension is available at http://www.PHAssociation.org/PressRoom.