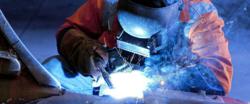 Burbank, CA (PRWEB) June 03, 2013
Welders, like many trade experts, are always at risk of lawsuit simply by doing their jobs. Liability insurance is the only protection against loss of assets, licensure and future income by the litigious general public. Too often, general liability coverage takes a large chunk of a welder's bottom line and sometimes makes it cost prohibitive to stay in business.
Yet, welders insurance is required by many states to become certified and attain a license and without it business can't get done. The release of the new Welders' Liability Coverage will now allow the journeymen and company owners to concentrate their efforts on getting new jobs, growing their businesses and providing the best service possible.
By customizing coverage and allowing for adjustments unique to each independent welder, USA Business Insurance has concluded that unnecessary coverage can be removed while adding only the coverage that is required therefore cutting down the cost of welders insurance. Plans start from as low as $79 a month. That is nearly a third of the market pricing of simple general liability plans not specified to the trade, which can cost thousands a year.
Coverage for welders insurance can include bodily injury, property damage, products and completed operations, damage to the premises, medical expenses, personal and advertising injury coverage.
USA Business Insurance conducts industry specific research to help create insurance packages to save consumers financially and protect their business with valid coverage. The new welders program provides the most comprehensive coverage for business insurance at the most affordable prices.
USA Business Insurance gives small business owners peace of mind.
For more information about welder insurance please visit http://www.businessinsuranceusa.com.