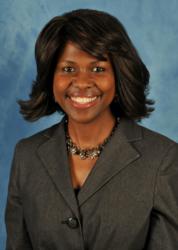 Jacksonville, Florida (PRWEB) June 03, 2013
Wolfson Children's Hospital President Michael D. Aubin has announced that Veronica Scott-Fulton, DNP, RN, MHA, MBA-c, has joined the hospital as vice president of Operations and Patient Care Services, effective June 3.
Dr. Scott-Fulton comes to Wolfson Children's Hospital from Miami Children's Hospital, where she served as the administrative director of Nursing Operations and Medical-Surgical Services. She has also served in previous nursing management positions over women's services, neonatal intensive care and adult medical-surgical services.
Dr. Scott-Fulton assumes the role previously held by Carolyn U. Johnson, DNP, RN, NEA-BC. Dr. Johnson retired January 4, 2013, after 38 years of service, which were marked by significant contributions to patient safety, program development and facility expansions at Wolfson Children's Hospital.
"Dr Scott-Fulton has a history of building strong teams to achieve outstanding results. She is highly collaborative and focused on patient outcomes and staff development. She has built excellent relationships with physicians and peers in former positions" said Baptist Health's Chief Nursing Officer Diane Raines, MSN, RN, NEA-BC.
"We are excited to have Dr. Scott-Fulton join Wolfson Children's Hospital in such a pivotal role," said Aubin. "We are fortunate to have a nursing executive with her background and experience as part of our team. Dr. Scott-Fulton will undoubtedly contribute to our growth and development as a patient-centered, nationally recognized children's hospital serving the children of North Florida, South Georgia and beyond."
Dr. Scott-Fulton has a Bachelor of Arts degree in Sociology and Psychology, as well as a Master of Public Health Administration degree from the University of South Carolina in Columbia. She also earned a Bachelor of Science degree in Nursing from the Medical University of South Carolina in Charleston, and a Doctor of Nursing Practice degree from the University of Miami. She is currently pursuing a Master of Business Administration degree form Wayne State College in Wayne, Nebraska.