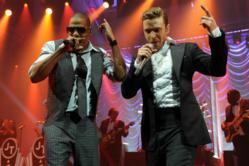 San Francisco, CA (PRWEB) June 01, 2013
Timberlake and Jay-Z are among the most popular musicians in the business and either one can easily sell out any venue in the world. The fact that they have come together to partner up for a tour which will feature many collaborative works is a clear indication of their mutual respect. Justin Timberlake & Jay-Z concert tickets for all of the tour dates are currently available now from San Francisco ticket broker Top Notch Seats.
Timberlake may find it difficult to remember what life is like outside of the spotlight, because he began making a living in the entertainment business as a 12-year-old in the Mickey Mouse Club. Once he decided that music would be his primary focus, he helped catapult N'Sync to international stardom before he broke off to establish himself as a soloist. In the decade since, he has shown off his skills on live stages all over the globe and in high profile role such as the host of Saturday Night Live.
Jay-Z traveled a distinctly different path from youth to international stardom. Raised in a tough Brooklyn housing project, Jay-Z was gifted with musical talents that began to surface in grade school. By the time he was 18 years old, Jay-Z had made his way onto several New York-based mix tapes, and by way of sheer determination and dedication he was able to sell hundreds of self-produced CDs out of the back of his car. His stock began to soar in the late 1990s after he got his first record deal, and he has since cemented his place as one of the single greatest rappers of all time.
This collection of highly anticipated Justin Timberlake concerts is set to begin in mid July with a show at the Rogers Centre in Toronto, followed by two consecutive outdoor performances at Yankee Stadium in The Bronx. The tour will quickly make its way across the nation for a Northern California show in San Francisco's Candlestick Park on the evening of Friday, July 26 and a Southern California show in Pasadena's Rose Bowl on the evening of Sunday, July 28. Top Notch Seats is ready and waiting with a large inventory of Justin Timberlake concert tickets.
For more information about Jay-Z and Justin Timberlake tour tickets, visit http://www.topnotchseats.com.
About Top Notch Seats
Operating from the heart of Silicon Valley since 1993, Top Notch Seats is an online leader in secure ticket sales. TNS supplies audiences with quality seating and tickets to all major concerts, theatre and sports events in the Bay Area and around the nation.
Top Notch Seats specializes in providing Bay Area concert tickets with a wide variety of seating options, which enables customers to choose their favorite vantage point. TNS is a licensed Bay Area ticket broker engaged in the business of buying and selling first-rate tickets. They do not sell tickets at face value; ticket prices are often well above face value and reflect the cost of obtaining quality seating.