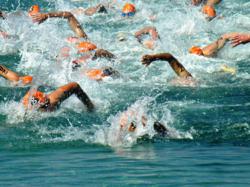 This is a great deal considering that the heart rate version originally sold for $399.99 - it is almost half price
Bozeman, MT (PRWEB) June 03, 2013
The Garmin 310XT triathlon watch will be on sale the entire month of June at the Heart Rate Watch Company. The company promises buyers the best price online from an authorized dealer for the entire month.
BEST GPS WATCH VALUE
"The Garmin 310XT is the single best GPS watch value on the market today for triathletes, cyclists and ultra-marathoners who need the 15 hour battery capacity at one second recording intervals," says Rusty Squire, President of the Heart Rate Watch Company. He adds, "We'll match any authorized dealer on the Garmin 310XT for June."
"The Forerunner 310XT sells for $184.95 without heart rate and $214.95 with heart rate," says Squire. He adds, "This is a great deal considering that the heart rate version originally sold for $399.99 - it is almost half price."
The Garmin 310XT triathlon watch has all the same features as the Garmin 910XT, which sells fro $449.99, minus the barometric altimeter and swim features according to Squire. "We tell customers all the time that this is the best deal out there for triathlon and once they understand the minimal feature differences they are glad we told them," states Squire.
FEATURES GALORE
Forerunner 310XT delivers power statistics cycling to ANT+ power meters, offers speed, distance, cadence, post ride maps and more. "The same is true for running and it links up to a Garmin foot pod for those who desire cadence," says Squire. He adds, "The elevation correction feature drills the altitude down to dead accurate following your ride and the Garmin player function surpasses anything we have found in other software products."
To receive a great deal on the Garmin 310XT June is the month and the Heart Rate Watch Company is the place. Heart Rate Watch Company is an authorized Garmin dealer and offers the only same day warranty service available.