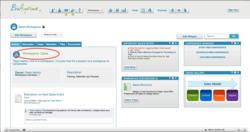 Since implementing BizAnytime we've seen the time the staff spends on sending communications and questions between offices decrease by at least 30 percent!
Tucson, Arizona (PRWEB) June 04, 2013
A new case study by online collaboration provider BizAnytime demonstrates the value of a comprehensive communications suite in improving communications and efficiencies for physical therapy offices. The case study outlines the benefits of incorporating BizAnytime's exclusive array of communication and collaboration tools in the clinical setting. By creating a shared online environment for practices that includes workspaces, file sharing and instant chat capability, BizAnytime was able to provide new avenues for rapid communication and cooperation in this fast-paced working environment. The entire case study can be viewed online at http://www.bizanytime.com/desert-palms-physical-therapy.
Desert Palms Physical Therapy provides active and passive treatments to help patients recover from a wide range of injuries and conditions. Because therapists spend the bulk of their time working directly with patients, it was critical to find new and innovative ways to increase communication among staff members and patients to promote healing, reduce duplicated effort and enhance efficiency throughout the facility. To complicate matters further, the center partners with and refers patients to a second office location, introducing additional communication challenges. The end result of these complexities was a breakdown in communication among staff members and a failure to respond immediately to patient inquiries and concerns within the clinical environment.
The founder of Desert Palms Physical Therapy, Bruce A. Franke, Jr., PT, MSc., OCS, MTC and FAAOMPT had read about BizAnytime and its exclusive portfolio of cloud-based collaboration and communications tools. Franke contacted BizAnytime to arrange for a free trial for his clinic. By setting up workspaces for each of his therapists, Franke was able to provide a greater degree of organization and to facilitate communication between therapists within the clinic. Instant chat functions ensured that workloads could be distributed and managed more efficiently in the working environment.
"Since implementing BizAnytime we've seen the time the staff spends on sending communications and questions between offices decrease by at least 30 percent" said Franke.
The successful implementation described in the case study is not an isolated case. BizAnytime helps virtually any type of small business achieve improved communications and increased collaboration to boost productivity in the workplace. Shared workspaces and advanced social media integration allow staff members to communicate quickly and effectively with each other and with clients through BizAnytime's secure cloud interface. Priced at only $10/month, BizAnytime reduces overall office expenses..
About BizAnytime:
The BizAnytime cloud-based collaboration system provides advanced tools for project management and cooperation among colleagues, clients and vendors. The company offers a range of services that include the following:

Shared workspaces
Project and task management tools
Ongoing discussion feeds
Chat programs
File storage and sharing functions
Document and project collaboration
Video conferencing tools
Prices start at $10 per month for this advanced suite of cloud computing services.