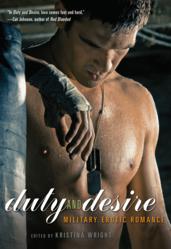 (PRWEB) June 01, 2013
Love is in the air, and several hot summer romances from Cleis Press are on sale as kindle ebooks. Don't miss the chance to read these sweaty encounters.
Cowboy Lust: Erotic Romance for Women
Edited by Delilah Devlin
There's a reason Western romance never goes out of fashion—cowboys are undeniably sexy. With stories corralled by Delilah Devlin, the bestselling author of Texas Men, Cowboy Lust will satisfy anyone who longs to be rode hard and put away wet.
Duty and Desire: Military Erotic Romance
Edited by Kristina Wright
The only thing stronger than the call of duty is the call of desire. Duty and Desire enlists a team of hot-blooded men and women from every branch of the military who serve their country and follow their hearts. Stateside and abroad, these warriors meet passion and danger head-on.
Passion: Erotic Romance for Women
Edited by Rachel Kramer Bussel
Love and sex have always been intimately intertwined—and Passion shows just how delicious the possibilities are when they mingle in this sensual collection edited by award-winning author Rachel Kramer Bussel.
Celebrate 365 days and ways to love with special deals from Viva Editions, whether it is the love between partners, the love of food, or the love of life.
Every Day Love: The Delicate Art of Caring for Each Other]
By Judy Ford
Falling in love is easy; sustaining love is difficult. Within these pages, for the first time, Judy Ford presents her field-tested "love lessons" mined from private practice and workshops to help readers build and preserve successful relationships.
Inspiration for a Lifetime: Words of Wisdom, Delight, and Possibility
By Allen Klein
Inspiration for a Lifetime is a little book brimming with wise words and affirmative sayings that touch the heart, make people laugh, and alleviate stress.
The Lazy Gourmet: Magnificent Meals Made Easy
By Robin Donovan and Juliana Gallin
The Lazy Gourmet is for anyone who dreams of dazzling friends and loved ones with fabulous home-cooked fare, especially cooks short on time, patience, skill or experience.