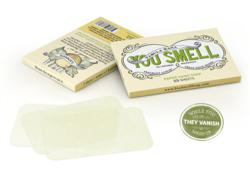 (PRWEB) June 03, 2013
Following their successful debut on Shark Tank in 2012, You Smell's luxury bath products have received a wide array of press coverage, culminating in this week's feature in US Weekly. The magazine lists You Smell's lemon scented soap sheets as a "must have" for summer travel and deems them part of savvy travelers' "carry on essentials that keep you cool in a city or at the beach".
A popular product in Europe and Asia, You Smell has re-invented Paper Soap and brought it to the US Market. You Smell Paper Soaps are formulated to be soft as silk, lightweight, and compact, making them easy to carry with you on the go. The Lemon Verbena scent is a blend of bright citrus fruits and rich verbena, making it a fabulous alternative to chemical smell of hand sanitizers or the dreaded pink soap in public restrooms.
About You Smell
You Smell was launched in 2012 by Megan Cummins, a graphic designer with a love for premium bath and body products. She identifies with women who enjoy a modern vintage design aesthetic, trend setting, and who believe being classy doesn't make you void of a personality. Cummins sought to create a product line that expressed those very same qualities. Today the You Smell product line fuses luxury, beauty and wit in a way the high-end toiletry market has not yet seen.
You Smell not only offers scented paper soap, but also luxurious bar soaps, liquid wash and lotion. Their products utilize the finest ingredients, and are best known for their decadent fragrances, eye-catching packaging, and unique brand personality.