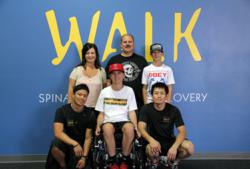 I want to walk again. I want to walk by the time I graduate high school
Ontario, CA (PRWEB) June 03, 2013
Kody Peraita is a graduating senior at Ruben S. Ayala high school in Chino Hills, Ca. Two years ago, he sustained a cervical spinal cord injury that left him paralyzed and unable to complete life's simplest tasks. On June 5, 2013, Kody will do more than just graduate from high school; he will walk across the stage to receive his diploma. With the assistance of his Project Walk Specialists, he will prove that anything is possible.
Like most people living with a spinal cord injury, Kody's body and mindset were both destroyed by the injury. One moment he is young, strong and invincible; and in a split second, the body and life he had only moments before are gone forever. His family was lost. What do they do now? How do they all adapt to this new life? Is there hope to recover? The answers came to them through The Be Perfect Foundation where they referred the family to Project Walk. Project Walk, headquartered in Carlsbad, CA, is the world leader in activity-based spinal cord injury recovery. Kody did not waste any time; he started with Project Walk on August 23, 2011, at three months post injury.
"On Kody's first day at Project Walk he was paralyzed from the neck down and so weak that he needed assistance to hold his body up so he would not fall over while trying to sit. He had severe pain, and spasms rocked his body when he was moved into different positions," says Yoshi Ozaki, Spinal Cord Injury Recovery Specialist at Project Walk.
When asked about his goals, Kody looked at his Specialist and said, "I want to walk again. I want to walk by the time I graduate high school."
After two years at Project Walk, Kody can sit balanced without any assistance; his upper body strength and endurance have increased dramatically; his pain is gone; his spasms and tone have relaxed and are being replaced by controlled movement; he can now stand from sitting on his own holding a bar for balance. His legs are moving and he is learning to walk again.
Spinal cord injuries affect more than 1 million US citizens and the need for aggressive, alternate forms of recovery are key to promoting independence and improving quality of life. At Project Walk, Kody found the Dardzinski Method® and the resources to give him a chance at life beyond a wheelchair.